Operating profit was up 16% in six months to June
Skanska has warned the civil engineering market in the UK is set to be weaker in the coming year – despite the firm formally being given the green light for a key scheme on HS2 this spring.
The fragility of the UK market was underlined in accounts filed for its UK business at Companies House yesterday, with these showing that income last year fell 8% to £1.8bn while pre-tax profit slipped from £44m to just over £14m.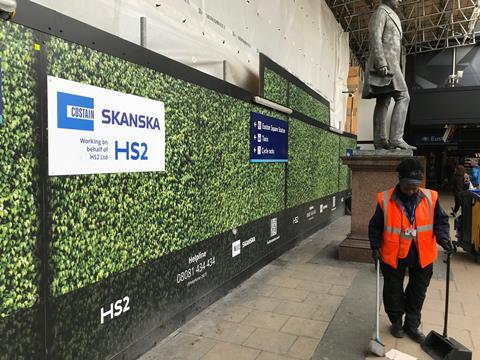 In the accounts, signed off last month, the firm warned its 2020 results would be hit by the fallout from the covid-19. It added: "The impact is currently unclear but it can be seen a fall in operating profit and cash resources will be realised when compared to 2019."
The firm is also planning to exit utility contracting after announcing it was pulling out of highways and rail maintenance at the start of this year.
In its group interim report for the six months to June, the firm said the UK market for civils would be weaker over the next 12 months.
It added that its building market, which is carrying out the £58m mixed-use Featherstone building scheme for Derwent London near Old Street, would also suffer in the coming year.
A Skanska team, which includes Costain and Austrian tunnelling contractor Strabag, inked a deal in April to build tunnels in and out of the new HS2 station at Euston worth £1.1bn to Skanska alone.
It said its Europe construction business, which also includes Poland and the Czech Republic, was hit by the impact of the covid-19 pandemic with revenue slumping 20% to £985m and profit falling to £2m from £13m. Operating margins during the period fell to just 0.2% from 1% last time.
The firm said its outlook was being hit by covid-19 and chief executive Anders Danielsson added: "It is still difficult to know how long this pandemic will last and exactly what the future will look like. Our strategy to grow project development, improve performance, reduce costs and risks and strengthen the balance sheet and governance is being delivered upon."
Skanska said group operating profit during the period was up 16% to £330m on turnover down 6% to £6.8bn.