Skanska UK publishes shapshot of half-year results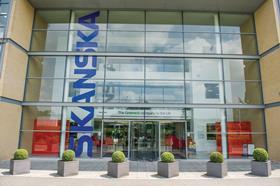 Skanska UK is planning to recruit 1,000 new staff in 2015 to help it deliver its burgeoning workload, the firm's chief executive Mike Putnam has said.
Putnam said the firm was on a recruitment drive in snapshot results published by Skanska UK for the first half of 2015. In these results, the firm said its operating profit dropped 19% to £16.1m, down from £19.9m for the same period the previous year.
Revenue inched up 4% to £675m, up from £651.4m the previous year. Putnam said the firm recruited 750 people in 2014 and "the outlook for 2015 as a whole is positive".
Contract wins during the first half of the year included around £600m of improvements to the A14 between Huntingdon and Cambridge, won in joint venture with Costain.
Skanska UK is also working, in joint venture with Skanska Sweden, on a new research facility near Malmö in Sweden, worth £25.4m to the UK business.