The group's US operation also took hits on a number of projects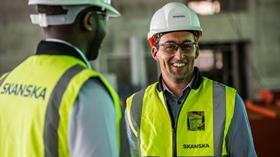 Skanska's European construction business, including its UK arm, has lost £61m (SEK712m) this year.
In its interim report for the second quarter the Swedish firm revealed its European business had lost more money in the first six months of this year than in the same period in 2017 where it lost £39m (SEK451m).
The US construction operation also lost SEK172m (£14m) between April and June but turned a profit of SEK222m (£19m) over the full six months.
But a strong performance by its Nordic construction operation saw the group's global contracting business turn a profit of SEK541m (£46.5m) as a whole for the first six months of the year. Skanska made SEK1.03bn (£88m) through construction in the Nordic countries.
The firm said "the divestment of the PPP-investment in the A1 motorway in Poland and project write-downs in the US and the UK construction operations impacted operating income significantly".
Skanska said it expected the non-residential market in the UK to be weak for the next 12 months.
It said: "In the UK there is still some uncertainty related to Brexit limiting investments in the non-residential building market".
The group's construction business turned over SEK75bn (£6.5bn) in the first half of the year.
Earlier this month it was revealed that profit had fallen at Skanska's UK arm for the second year running thanks to a series of loss-making jobs.
The firm, which is coming to the end of its contract to build the £500m Scalpel tower in the City of London, said pre-tax profit fell to £13.5m from £23.6m in the year to December 2017.
Income during the period was up £150m to £1.8bn thanks to a number of contract wins including a £142m mixed-used job at St Giles Circus in London's West End and a £127m mixed-use scheme at Fenchurch Street in the City.
The profit fall means that between 2015, when Skanska posted a £42.1m pre-tax profit, and 2017 the firm's profit has nosedived two thirds.