Report says industry requires 20% more workers per year to deliver £96bn work pipeline in London and South-east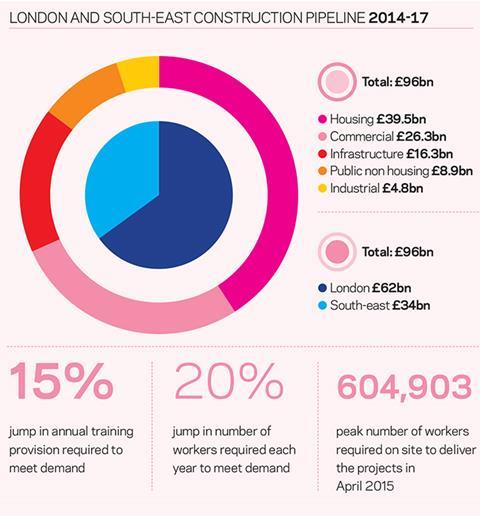 Major construction sites in London and the South-east could be jeopardised unless the industry deals with an acute skills crisis requiring a 20% jump in the number of construction workers to meet a £96bn pipeline of work, a new report has warned.
The report by the London Chamber of Commerce and Industry and KPMG outlines the labour requirements to deliver construction projects in London and the South-east between 2014 and 2017 and the gaps in training that must be filled to meet this demand.
The report found that 20% more workers would be required each year on average to deliver a £96bn pipeline of construction projects over the four years to 2017.
It warned there would need to be a 51% increase in current training provision to meet the demand for skilled labour and plug a gap of around 15,000 workers each year on average over the four-year period.
It said unless the supply of construction labour is increased, housebuilding targets will not be met and the delivery of large infrastructure projects will be jeopardised.
It said the skills crisis could impact on the wider economy as early as April 2015, when a peak of 604,903 workers would be needed on site to deliver major projects across London and the South-east.
The report identified a £95.7bn construction pipeline in London and the South-east from 2014-17, with the total demand for labour across London and the South-east to deliver this pipeline averaging 430,706 in 2014; 585,863 next year; 594,645 in 2016; and 603,567 in 2017.
It said to meet this demand will require a 20% jump in the number of workers on average over the 2014-17 period compared to the previous four-year period.
It added that this was likely to be a conservative estimate, as it was based on work that is currently in the planning system and more work was likely to be added.
The report found that the industry would need to be training around 29,293 skilled workers each year to meet the demand for labour, but was currently only training around 14,886 workers, meaning there needs to be a 51% increase in training provision to meet demand.
Richard Threlfall, KPMG UK head of infrastructure, building and construction, said: "For the first time in many generations, the UK has a strong pipeline of construction and infrastructure projects to reinvigorate the economy and drive our future competitiveness. But delivery of that pipeline is now in jeopardy - not for lack of political will or funding - but for lack of a sufficiently large and trained workforce.
"Unless action is taken now, our housing targets will be missed, and infrastructure projects delayed."
The report calls for Infrastructure UK, the Treasury's infrastructure unit, to embed skills and employment requirements in public procurement contracts, aimed at both tier one contractors and suppliers.
It also called for the Skills Funding Agency to convene industry bodies and representatives to redesign training and apprenticeship frameworks to reflect modern methods of construction.
"This report calls on the industry itself to wake up and take responsibility to increase levels of training dramatically," Threlfall added.
"It also calls on government and training providers to recognise that the industry is changing, with ever greater application of technology and a trend towards offsite manufacturing."