The UK Commission for Employment and Skills says skills gaps and shortgages preventing development of modern construction methods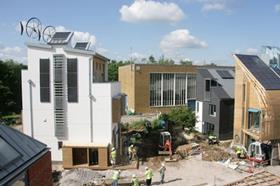 A lack of skills is holding back the industry's shift to more modern forms of construction, a report by the UK Commission for Employment and Skills has found.
The report concluded that skills shortages and gaps were holding back the shift to modern construction methods, such as offsite construction, which currently comprises around 12% of construction in the UK.
Helen Beck, research manager at the UK Commission for Employment and Skills said: "Technological change and the drive towards innovative and low-carbon building methods present a major opportunity to build quicker, to a higher quality, more sustainably and compete on a global market.
"Indeed, the global construction market is forecast to grow by over 70 per cent by 2025.
"Offsite construction requires skills that are different to those needed for traditional construction. In particular, offsite construction professionals need a greater understanding of the interaction between principles of design, construction, manufacturing and engineering.
"If the UK construction industry is to exploit the potential of offsite, multi-skilling, collaboration and greater flexibility within job roles is crucial."
The report found that:
Estimating the scale and value of the offsite sector is extremely challenging. The most recent estimates put the value of offsite construction at around £1.5bn, with a potential to achieve as much as £6bn. Projections for 2013 suggest the current value of the sector as likely to be seven per cent of total construction output
Offsite technologies have the potential to address some of the industry's most pressing challenges, including the need for more new homes and the impetus of the low-carbon agenda. Nevertheless, weak demand has suppressed the market for offsite, with industry reluctance to adopt certain innovative technologies, and financiers and insurers unwilling to invest in what are seen as new, untested technologies
Core skills for offsite include project management, planning and sequencing, design, engineering, IT, marketing and business case development. Skills to effectively manage the interface between the offsite and onsite environment are also critical
Project management roles, schedulers, design staff and engineers are currently most in demand for offsite; Computer Aided Design (CAD) and Building Information Modelling (BIM) specialists and quantity surveyors are in high demand
The current training and qualification offer for offsite is considered to be largely inadequate by employers. There is fragmented provision and companies generally create their own, bespoke, in-house training
Deficiencies within the content of current training are identified as 3D drawing; site supervision; logistics; BIM and an understanding of design technologies and materials used in offsite
The report is available to download here.