Mayor warns shortages could hit housing plans
Sadiq Khan has called on the government to create a temporary visa scheme for construction workers to alleviate the" double impact" of the pandemic and Brexit on labour supply.
The mayor of London says a "coronavirus recovery visa" is needed to help sectors struggling with labour shortages- including construction.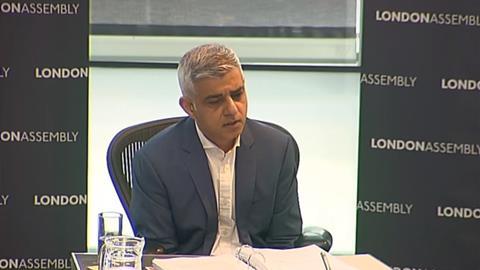 Khan said this should offer the right to work in the UK for at least 12 months and be tailored to specific sectors. Khan pointed to official figures showing the construction industry had 48,000 vacancies in August to October, the highest figure for 20 years.
Khan warned his plans to build more affordable housing will be jeopardised if labour shortages continue. Khan earlier this year published a plan for 52,000 homes to be built a year in London over 10 years.
He said: "The construction sector forms a key part of London's Covid recovery plan. However, both our recovery and efforts to deliver the genuinely affordable homes Londoners desperately need could now be put at risk if there isn't the skilled workforce available to build them"
The mayor's call has been backed by bodies representing house builders and developing housing associations in London.
Brian Berry, chief executive of the Federation of Master Builders, said: "Long-term action to improve and encourage greater numbers into the UK's skills system is necessary, but short-term solutions like emergency visas will be a real shot in the arm for an industry under pressure. "
Geeta Nanda, chair of the G15 group of housing associations and chief executive of Metropolitan Thames Valley said: "A temporary visa scheme would help us to keep building homes for Londoners now.
"Through our construction activity we are supporting many people on apprenticeships and other training programmes, and we fully support efforts to encourage more young people to pursue rewarding careers in construction."