RICS survey reveals that the skills shortage could derail government's plans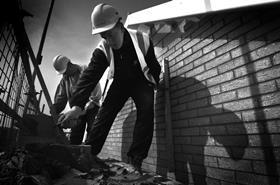 The construction industry's skills shortage is threatening the government's housing and infrastructure programmes, according to RICS UK Construction Market Survey.
The skills shortage is also pushing wages in the construction industry far above the national average, the survey said with average construction earnings having risen by over 6% in the year to October - 4% higher than the average UK wage rise of 2% over the same period.
The survey reported that 61% of respondents reported sharp wage in the sector, while 66% considered labour shortages to be the most significant barrier to growth in the last quarter of 2015.
Bricklayers and quantity surveyors were reported to be in shortest supply with over 60% of respondents having a difficulty finding people with these skills.
Net lending to the sector fell by a further £274m in the three months to November, and 64% of respondents to the survey highlighted continuing issues around financial constraints.
The number of respondents still seeing an increase in the number of new projects they were taking on dropped by 6% to 33% in the fourth quarter of 2015 from 39% for the third quarter.
However, despite these concerns, 45% said that they expected profit margins to rise over the next year.
RICS chief economist Simon Rubinsohn said that while workloads are still growing at a "relatively healthy pace" labour shortages are causing delays and problems with project planning.
He added that "more than 60% of our survey respondents said that these resulting planning delays were an impediment to growth".
RICS Skills and Talent Director, Sally Speed warned that unless the government "urgently" addresses the growing skills shortage affecting the industry "some of its key housing and infrastructure programmes could soon face crippling delays and spiralling costs".