Grid rules out expanding head office because of 'crazy' prices in capital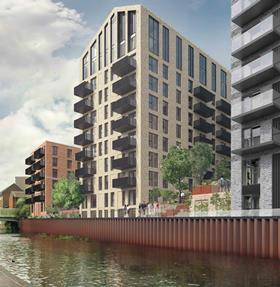 Grid Architects is planning to open two new offices in Spain and Birmingham – partly because rents are so high in London.
The practice is eyeing Madrid and England's second city for its first satellite studios after ruling out expanding its 50-strong operation in London because of the cost.
Founder Craig Casci said they picked the two cities partly because of the opportunities they offer but also because expanding in London was prohibitively expensive.
"Rents have gone crazy," he said. "When we moved to Southwark eight years ago it was £25/sq ft. Now it's £65-70. We'll be here a long time – but we won't be expanding in central London."
Grid, which is working on a 97 homes scheme at the Southbank Place project, part of the redevelopment of the Shell Centre on the south side of the river Thames, is hoping to sign a deal for an office in Madrid at Easter – even though it doesn't have any work there.
"We see an opportunity to bolster London using Madrid," he said. "It's a way to expand that doesn't involve expanding in expensive central London."
He said it was a "no brainer" to open a Birmingham office and was looking at a staff of six initially.
The practice has landed two major projects in the city that will keep it there for some years. One is a long-term masterplan in the city's industrial "inner ring". The other is a 400-unit housing scheme called Snow Hill Wharf (pictured) consisting of five buildings including a 21-storey tower.