Report finds downturn in output will cut recruitment requirements by a third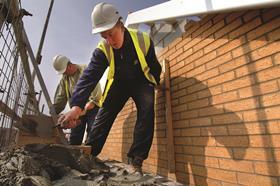 Skills shortages in construction will be eased by up to a third over the next five years due to a slowdown in the sector's growth, according to a report from the CITB.
The training body's latest forecasts say the Brexit vote has exacerbated the decline in the industry's growth prospects and therefore means it will need less workers.
It forecasts average output growth of 2% per annum over the next five years – down from its 2.5% average growth forecast in January.
Estimates for the industry's recruitment requirement by 2021 have consequently been slashed, dropping by a third from 232,000 to 157,000.
Over the next five years, the CITB forecasts the industry will now need 25,350 new workers every year in England, 3,540 in Wales, 1,810 in Scotland and 650 in Northern Ireland.
While the average growth forecast is 2%, the picture across the UK varies.
Wales' average growth rate is above the average at 5.7%, while England, the South-west (2.8%) and North-west (2.2%) have the highest growth outlook.
Scotland (-0.6%), the North-east of England (-0.1%) and the East Midlands (-0.2%) are all predicted to contract, while the biggest shift in the forecast is for Greater London, where average growth has fallen from 3.5% in January's forecast to 1.5%.
Commenting on the latest forecasts, CITB director of policy Stephen Radley said "delays and uncertainty over investment decisions and access to migrant labour will likely intensify as Brexit nears".
He added: "While employers' main focus in the short term will be to weather the storm, it's also important that they equip their workforce with the right skills for the challenges ahead."