Survey by the Federation of Master Builders finds many SMEs do not know where to find public sector contracts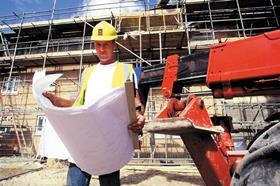 Small and medium sized builders are being frozen out of bidding for public sector work and few know where to find opportunities for work within the public sector, a survey by the Federation of Master Builders has found.
The survey of over 450 firms found that the success rate of SMEs bidding for public sector work had declined in the last five years. It found 41% of SMEs lost out nine times out of ten when bidding for public sector work and 55% said their success rate had declined in the last five years.
It also found that 69% of builders found it difficult to find out about public sector contract opportunities and 81% said they were not aware of the government's construction pipeline.
Nearly half of respondents to the survey described the pre-qualification process as quite negative or mostly negative. Builders reported having to fill in PQQ forms that were over 100 pages long and often difficult to understand making them very time consuming and sucking up SMEs scarce resources.
These results come despite the government being in the midst of a drive to get 25% of central government contracts awarded to SMEs by 2015.
Brian Berry, chief executive of the FMB, said that as public sector contracts accounted for around 40% of construction output SME access to the market was "vital".
He added: "The economic and environmental arguments for procuring with small local businesses are widely accepted, so now it's a case of finding ways to increase this type of procurement."
Peter Fleming, chair of the Local Government Association, said that many councils awarded more than half of their contracts to SMEs.
He added: "But with council funding being cut by more than a third by central government, there is simply less work around, particularly in the construction sector."
Cabinet office minister Chloe Smith said SMEs were "crucially important to the economy", but admitted that businesses "have found bidding for [public sector] work excessively bureaucratic". "So often you are shutting out the best ideas and you are shutting out innovation," she said.
She said she supported the report's recommendation for standardisation of "complex and cumbersome" PQQ procedures, along the PAS91 standard.
However, she would not comment on how quickly she wanted to see this rolled out, adding: "I'm hopeful it's not an eternity until the benefits are clear to all [public sector bodies]."
In September the government announced that Barbour ABI, part of UBM Built Environment, publishers of Building magazine, had won the contract to collect, collate and publish the government's construction and infrastructure pipeline.
A Cabinet Office spokesman said: "SMEs are a key driver in the country's economic growth, particularly in the construction industry which is reliant on so many smaller suppliers. That's why government has significantly streamlined the procurement process to make it simpler, more efficient and more innovative for suppliers irrespective of their size to bid for public sector contracts.
"We know that being transparent about opportunities available in the public sector is exactly what suppliers need to start looking at their business, investing and boosting their capabilities.
"That's why we are giving suppliers much earlier visibility of future government procurement opportunities, giving UK businesses the information they need to plan, get ahead of the game and grow.
FMB's key recommendations for improving public procurement for SMEs
Clients to publish quarterly statistics on the volume and value of work awarded to SMEs
Public authorities to use the PAS91 standard in pre-qualifying questionnaires to keep processes simple and consistent across public bodies
Pre-qualifying questionnaires to be required no more than once a year
Local authorities to advertise opportunities on their regional online portal
Less bundling of construction jobs in tenders
Public sector bodies to write into contracts that tier two contractors should be paid within 30 days
Public clients to deem SMEs financially viable for a job provided it does not exceed 33% of their turnover
Bidders to be given feedback by clients within 15 days of a request