Daniel Levy admits costs have 'definitely risen' with club due to give update on new opening date at the end of the month
Tottenham Hotspur chairman Daniel Levy has said the delays on its new stadium are down to "several contractors" with the club expected to issue an update on when the late-running venue will open at the end of this month.
And the club admitted that the costs of the 62,000-seat stadium "had definitely risen" with speculation that the pricetag of the north London is now north of £800m – double its estimated original cost.
Speaking to a club supporters trust meeting last week – the minutes of which have now been made public – Levy told the trust the delays were not just the fault of one contractor.
The minutes said: "DL [Daniel Levy] confirmed they were down to several contractors."
In August, Building reported that faulty wiring was being blamed for the ground busting its opening deadline.
Mark Reynolds, the chief executive of Mace, which is overseeing building work at the site, said the firm had discovered problems with the wiring for fire detection systems during commissioning and testing work.
He said: "Issues with critical safety systems were identified. This is linked to the fire detection contractor encountering higher than usual electrical wiring faults."
Levy told supporters that announcing the first game against Liverpool, which was held in the middle of last month, had not been "over ambitious" and the stadium "would have been ready if not for the safety issues".
The game was eventually played at its temporary Wembley stadium home with the club continuing to play its home games there until the end of this month.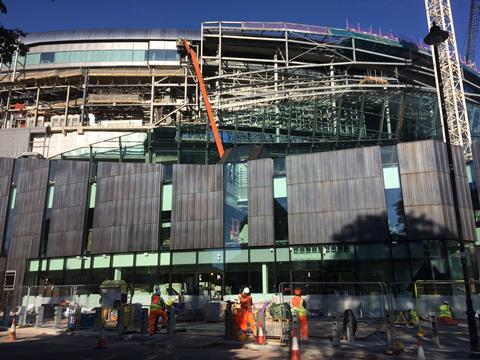 It is due to play a home Premier League game at Wembley against Manchester City on 29 October but supporters have been left in the dark about where its one home game next month, against Chelsea on 24 November, will be held.
But executive director Donna-Maria Cullen told supporters the club will issue an update in the next "two to three weeks" with the end of this month now the most likely time for an announcement.
Tottenham's game against Burnley on 15 December is now being eyed as the most likely opening date of the new ground – dashing hopes its glamour league game against London rivals Chelsea would have been the stadium's first competitive match.
The club must hold a number of test events before the local council, Haringey, issues the stadium with a safety certificate. No fresh test events, which were due to have been held at the end of August and beginning of September, have been scheduled yet.
Levy added the delay had meant that external work, due to have been completed next summer, had been brought forward.
Levy also said costs "had definitely risen" with Cullen admitting the club was "cutting internal costs where possible" – such as campaigns and marketing.