Structural re-jig is boosting prospects, says property developer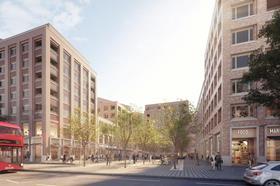 Despite posting an 18% dip in interim pre-tax profit St Modwen said the strategy to re-balance its portfolio was working effectively.
Pre-tax profit for the six months to the end of May 2018 fell from £31.6m to £25.9m on revenue up 40% at £212m.
The property developer said it had sold £350m of assets since the end of 2017, bringing total disposals as part of its new strategy a year ago to £635m.
The company's homes division delivered nearly a third (31%) more units, 302 versus 230 at the same point last year.
And it said it had increased its committed industrial/logistics pipeline from 1m ft2 to 1.3m ft2 since start of the year, of which approximately two-thirds will be retained.
Noting what he called a "good start to 2018", St Modwen's chief executive Mark Allan said: "Since we announced our new strategy a year ago we have made considerable progress.
"Our organisational structure is better aligned to our strategy, our forward pipeline of projects is clear, our net borrowings are down by over £220m and with the sale of £635m of assets we have seen a significant shift in our portfolio mix."
St Modwen recently announced it was re-booting its planned development of the Leegate shopping centre (pictured) in Lee Green, south east London.
If approved by Lewisham council the scheme, which was re-vamped following local residents' concerns, will see a development featuring 393 new homes, including a provision for 64 affordable units, a number of mews-style homes, as well as a convenience foodstore, a pub, cafes, restaurants and a new public square.