Developer confirms interest from several parties in New Covent Garden Market site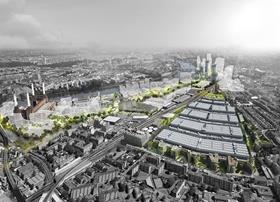 St Modwen Properties has confirmed that it is in talks to sell its 10-acre New Covent Garden Market site at Nine Elms.
The regeneration developer in a trading update said it had received interest from a number of parties having mooted the possibility of selling the site earlier this year.
St Modwen added that it had made several new acquisitions outside of London totalling £45m and had sold its 50-acre Heartlands Park site in Birmingham for £25m to the government for the HS2 railway scheme.
Since July, St Modwen's housebuilding arm has begun work on three new sites and is now active on a total of 18 sites, the company reported.
New chief executive of St Modwen Mark Allen, who formally took up his new role last week, said: "The company has continued to trade well, demonstrating excellent resilience in an unsettled environment.
"St. Modwen's business is focused on creating genuine value from its deep and diverse portfolio of development and investment opportunities. Everything I have seen in my first few weeks in the business suggests that it is well placed to continue doing so."