Building's annual list of the top 150 UK consultants sees Atkins retain its number one spot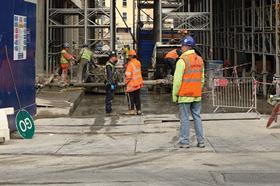 UK staff numbers in the top 150 consultants have increased by nearly a quarter in the space of a year, according to Building's annual ranking of the country's biggest firms.
The figures, compiled exclusively for Building magazine, show that the growth in workload seen in the last few years has resulted in a huge boost to the number of staff employed in UK construction consultancies, with the 150 biggest firms now employing 82,355 people in the UK, a rise of 23%, from 66,993 in 2014.
The figures show that the number of chartered staff employed at these firms has also grown sharply, albeit at a slower rate. The tables show that 35,355 chartered staff are now employed in the top 150 firms, an increase of 14% on the 31,042 employed last year.
While most of the increase is due to organic growth within the firms, the figures are also likely to reflect the impact of consultant consolidation, particularly within a number of the largest firms, which means that more smaller companies have been able to make their way onto the list.
The tables, which rank firms by the number of chartered staff employed in the UK, saw Atkins retain its number one spot with an enormous leap in the number of chartered staff it employs, from 2,988 to 3,867. Aecom grabbed the second spot from Mott MacDonald after its 2014 mega-merger with URS, with the combined entry from Arcadis, Hyder and EC Harris being the fourth-rated firm.
The biggest change in the overall top 10 came after the purchase of Parsons Brinckerhoff last year by WSP, which rose from 10th position last year to fifth. The combined entry from Arcadis was the largest QS, with Foster + Partners remaining the biggest architect.
The data comes in the week Atkins announced it had this year taken on 380 graduates to its business, amid increasing concerns over skills shortages within all of the major construction professions.
Nick Roberts, Atkins' UK & Europe chief executive officer, said: "Nurturing the aspirations and development of our future engineers, designers and scientists is crucial to the delivery and sustainability of our infrastructure."
Derek Pitcher, Europe managing director at Sweett Group, said the firm was hiring lots of "really good" graduates but was struggling to get mid-ranking people with several years' experience, because of the hollowing out of the industry in the recession.
Gerry O'Brien, director at AKT II, said: "There's been a long period of time with not enough people [in the industry] continuing to grow their skills and their knowledge. [This shortage is] one of the main things reducing the opportunity for growth for medium-sized companies."