Bovis Homes chief executive says the jury's out on starter homes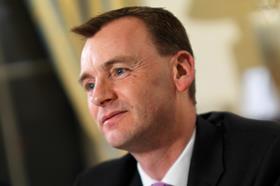 The government's starter homes policy is likely to boost housebuilders' profits, the chief executive of Bovis Homes has said.
David Ritchie (pictured) said Bovis Homes' initial view of starter homes – which will be sold at 20% off the market rate and capped at £450,000 in London and £250,000 elsewhere – was that it would enable the firm to "potentially sell homes for more money", over the alternative of meeting affordable homes obligations through selling parts of schemes to housing associations.
But he warned that the first starter homes were unlikely to be delivered "until 2018-19", as there would be a lag due to the time taken to incorporate them into its pipeline and deliver them.
He said: "The view from politicians is that they'll happen tomorrow. It was the same with Right to Buy, they expected hundreds of deals straight away, but it takes time."
Ritchie also warned the policy could "distort" the second-hand sales market given starter homes can be sold at market value five years after being bought at a discount, and suggested a covenant ensuring homes are sold at a discount "in perpetuity" could provide a solution.
Ritchie's comments came as Bovis Homes posted record profit for the 2015 calendar year.
The firm posted a 20% jump in pre-tax profit to £160.1m for 2015, up from £133.5m the previous year.
The housebuilder also posted revenue growth of 17% in its full-year calendar results to £946.5m, up from £809.4m in 2014, on the back of a strong increase in completions to just shy of 4,000 homes.
The firm is planning to expand completions to 6,000 homes a year "in the next few years", Ritchie said.
Meanwhile, rival housebuilder Persimmon posted a 35% jump in pre-tax profit for 2015 to £629m and upped its dividend payment plan to shareholders to £2.9bn from 2012-2021.