Euston programme director says starting line at Old Oak would add two-year design delay
The man in charge of HS2's Euston station has rubbished suggestions that scrapping the scheme's London terminus would save time and money, as the transport secretary confirms the project's cost has skyrocketed.
Speaking to Building, HS2's Euston programme director Rob Carr said ending the line at Old Oak Common rather than Euston would add years to the schedule and cause a potential multibillion-pound hit to the scheme's overall business case.
It comes as details of a review carried out by HS2 chairman Allan Cook were made public.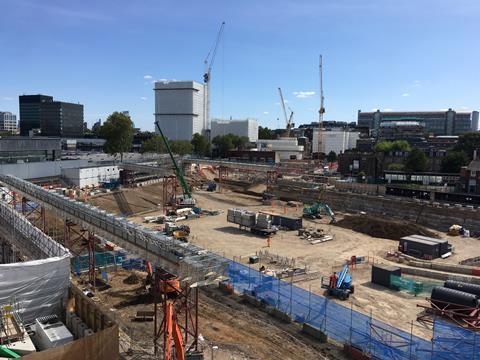 In a written statement transport secretary Grant Shapps has revealed Cook believes the scheme cannot be delivered within its £56bn budget and is instead likely to cost between £72bn and £78bn at 2015 prices.
Shapps said that adjusting for construction cost inflation, the range set out in Cook's report is equivalent to between £81bn and £88bn in 2019 prices, against a budget of £62.4bn.
He also revealed that Cook did not believe the project's first phase could open by 2026.
Shapps said: "He [Cook] recommends 2028 to 2031 for phase one – with a staged opening, starting with services between London Old Oak Common and Birmingham Curzon Street, followed by services to and from London Euston."
He said Cook expected phase 2b, the full high-speed line to Manchester and Leeds, to open between 2035 and 2040. The current opening date for the full line is 2033.
Terminating the line at Old Oak Common in west London, rather than Euston is also one of the options being considered in the review of the project being led by Douglas Oakervee, who has already visited the Euston site.
But Carr said: "You'd have to redesign Old Oak Common station. That's at least a two-year hit in design terms.
"Even if you could build the redesigned station, imagine 18 trains each with 1,000 people getting off and getting on the Crossrail trains, which haven't been designed for that. It would be madness.
"We are talking billions potentially in terms of [the] business case impact of delaying London to Birmingham because we had to redesign the station at Old Oak Common."
Carr said the 11 HS2 platforms at Euston allowed it to act as a "pressure valve" for the line, saying if Old Oak Common, which only has six, replaced it as the capital's terminus, it would either have to be redesigned or the number of services halved.
He said the potential to redesign Old Oak Common was further limited by the fact the station platforms are 20m deep and sandwiched between the Greater Western mainline and the Crossrail depot.
Carr also pointed to the wider implications of cancelling the £1.5bn scheme at Euston, which is set to be built by a team made of Mace and Spanish firm Dragados.
He said: "You'd then forego the huge development value, £3bn-£4bn, the 1,700 homes, the 19,000 jobs that you would generate."
Carr also revealed the team at Euston – made up of design firm Arup, which is on a design-to-cost contract, and the Mace/Dragados JV – was working on plans to build the HS2 station in one phase.
Current plans would involve the station's first six platforms being built in Stage A and the remaining five subsequently built as Stage B1. The redevelopment of the Network Rail station would be Stage B2.
He said: "The current plan is we build Stage A, then Network Rail demolish the station for a year or two years and then we build Stage B1. That's got to be inefficient doesn't it?
"We are starting to question some of the High Speed Two requirements to see what we can flex to build a station perhaps slightly smaller but still deliver the same service. That's the challenge we are going through right now."