Architect Steve Tompkins says UK system freezes out young practices and reveals Haworth Tompkins is targeting international work

Stirling Prize winner Steve Tompkins has criticised the UK's procurement system for freezing out young practices.
The Haworth Tompkins director contrasted the "increasingly bureaucratic" British system unfavourably with that found overseas where greater weight is often placed on talent and ideas.
He said his own practice had struggled to break into new typologies because PQQs in this country so often demand prior experience.
"The whole procurement structure in this country is increasingly bureaucratic," he told Building's sister title BD after scooping the Stirling Prize last Thursday for the Everyman Theatre in Liverpool.
"The number of hurdles you have to pass through to get a commission is daunting and the amount of design work you have to do is daunting, demoralising and very wasteful," he said.
"It's increasingly hard for young practices to get in at all. I wish that was a debate we could have with the procurement process."
Tompkins said he hoped that winning British architecture's biggest accolade would unlock some bigger projects and new typologies for his practice. He also revealed he was in talks with some potential foreign clients – and some West End theatres.
"I hope [winning the Stirling] allows us to carry on doing more of the same kind of work," he said.
"I'm not expecting it to be a passport to a different quantum of commission, though that would be lovely.
"It feels like we are ready to up the scale of what we do and I feel that we are ready to work internationally. This will be a really good calling card.
"Five years ago we wouldn't have said that but our practice has matured. We are now 50-strong and for two creative directors at this point in life that feels about right and about the size where we can effectively keep authorial voices."
The practice has previously chosen not to enter competitions for overseas projects that it felt it could not oversee with the degree of care it prides itself on, he said.
"I have no desire to expand for its own sake but if it happens organically, so be it," he said. "We are a slow-burn studio that takes things a step at a time. We have taken 25 years to get to this size and have done so in response to commissions.
"I hope every part of the portfolio expands. We haven't done any further education work, apart from the RCA, which is a disappointment to us. We'd really like to have a crack at that but it's very difficult to break into the PQQ system which makes it increasingly hard to cross typologies."
The practice is dipping its toes in foreign waters, with a theatre in Christchurch, New Zealand, and plans to try and pick up more "urban" projects, such as housing, in the UK and Europe.
Tompkins has just returned from Jordan where he met makers and artists from Palestine and across north Africa to talk about possible collaborations.
"I hope some stories will emerge from that," he said. "I'm also personally very interested in India and Asia and I would love to be designing theatre spaces there."
Theatres have become the heart of the practice's work yet the wave of lottery funding they surfed from the Royal Court to the Everyman and National Theatre is "ebbing away". But Tompkins has a plan.
"We were fortunate to be in the right place at the right time as a young practice with no track record," he said.
But though public funding may be scarcer in the years to come, there is no shortage of aging commercial theatres in the West End in desperate need of redevelopment.
"We are starting to have interesting conversations with commercial operators who realise it makes financial sense to have their buildings busy all day rather than have audiences pour in to watch a production and then scuttle out to spend the rest of the evening in a bar that's not on the premises," he explained.
This story first appeared on Building Design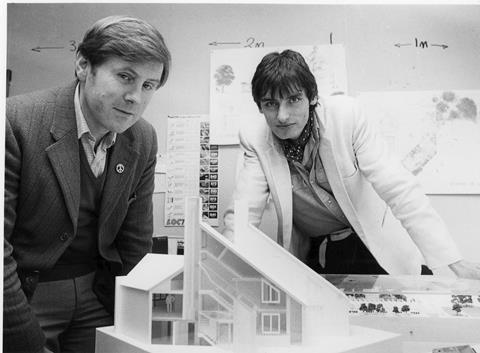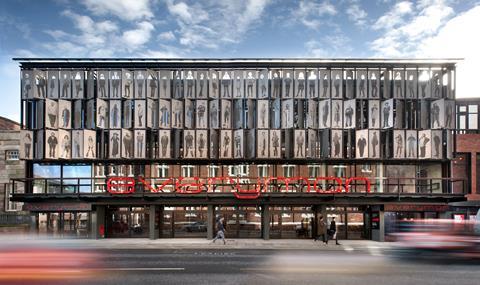 On winning the Stirling Prize:
It feels completely brilliant – an absolute thrill.
Of course you don't expect to win. How can you expect to win in a shortlist like that? Everyone probably felt this year that to be on the shortlist was a victory of its own kind. They are all great buildings and winning is contingent of a lot of things you can't control.
On O'Donnell & Tuomey:
If it wasn't us I was hoping the LSE would win. John and Sheila are consummate architects. They are great role models for so many of us. They have an impeccable, consistent body of work and they absolutely deserved to win. The fact they've been on the Stirling shortlist five times is testament to that.