Chairman says move staves off sale and retains financial independence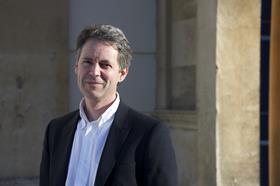 Stride Treglown chairman David Hunter has said its decision to become an employee-owned business has been partly driven by the threat of hoisting the for sale over the business.
The 60 year old practice, which employees 280 people, has now given employees the opportunity to buy shares in the company, which has eight offices in the UK as well as outposts in Dubai and Abu Dhabi.
Hunter said the initial offer has been limited to those who working at the business in 2013 with 98% taking up the chance to own part of the company. That figure represents around 80% ownership, he added.
The company has allocated a day in July to trade shares. "We are an architect, not a stockbroker," Hunter added.
He admitted that the board had been forced to look at the possibility of a sale given that the firm is facing the departure of a number of director shareholders in the coming years.
"One alternative was to prepare the company for sale but we wanted to avoid that," Hunter said, adding that share ownership would maintain its financial independence. He said employees owning shares was also a fairer system.
The initial share price was £4.32 with the next price due to be given once its annual accounts have been signed off.
Iain Hasdell, chief executive of the Employee Ownership Association, said it was the "decade of employee ownership".
He added: "There is a definite move towards employee-owned businesses. The facts speak for themselves: organisations adopting this model achieve greater productivity and innovation.
"In addition, we have seen that there is also the added advantage of greater resilience to economic turbulence."
No employee, including board members, can own more than 5% of the business. The board is expected to retain around 75% of the shares with the remainder held by remaining employees.
Shares can be bought and sold on a specific trading day with employees who leave the business able to cash in their shares which are then put up for sale.
Source
This story first appeared on Building Design here.