Sites remain shut as liquidation enters fifth day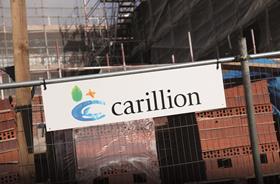 Desperate subcontractors have been warned not to break into idle sites and retrieve kit as Carillion's liquidator confirmed firms owed money at the time it went bust will not be paid.
Rudi Klein, the chief executive of the Specialist Engineering Contractors' Group, said: "You get stories of specialists who have just delivered plant to sites that is worth thousands of pounds. While it's locked up, it can't be used on another job."
John Wevill, head of construction at London law firm Boodle Hatfield, told Building: "I have no doubt some people will be reaching for bolt cutters. My advice is however desperate you are or angry, don't do it. It's a criminal offence.
"The only legal way to retrieve the goods is to contact the keyholder of the site and retrieve them under supervision."
Liquidator PwC told industry groups at a meeting at the Department for Business that suppliers' worst fears would be realised and that they would be left out of pocket by Carillion's implosion.
One of the accountant's six special managers brought in to deal with the liquidation said it would provide suppliers with commitment letters that guarantee payment for work undertaken and materials supplied during the liquidation process.
But David Kelly said work completed before Monday, when Carillion went bust, would be treated as unsecured debt and at the back of the queue for payment.
He added work had been paused on many construction sites until the situation could be evaluated but was unable to provide a timeframe for if and when work would restart.