Survey finds huge amounts of money is written off as bad debt by subcontractors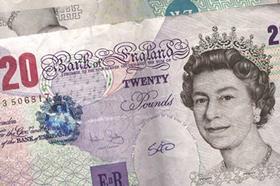 Over £200m of late payments and retentions were written off as bad debts by subcontractors over the past year, a survey by the National Specialist Contractors Council (NSCC) has revealed.
The survey of 719 firms, with a combined turnover of £3bn, found that retentions and late payment accouted for 6.6% of subcontractors' turnover.
Respondents to the survey reported they had written off £55m of retentions payments as bad debt in the past year, and a further £177m of late payments had also been written off.
The survey also found over 40% of firms were not being paid within their contracted terms.
It found 92% of members of the NSCC and the Federation of Master Builders had agreed payment terms of 45 days or less, but only 57% were actually paid within these terms.
It found 41% of firms were given no reason, or a spurious reason, for retentions money being witheld.
Suzannah Nichol, chief executive of the NSCC, said small firms writing off large sums of payment as bad debt was hurting the industry.
She pointed out that given contractors worked on low margins of between 1% and 4%, writing off over 6% of their turnover as bed debt effectively wiped out many firms' profit.
She said: "What do you think they do with their profit? They grow their businesses. That money enables them to invest. How many apprentices would that money pay for?"
The NSCC's survey findings come after small business minister Matthew Hancock said the practice of holding retentions should be "unnecessary".
In a Parliamentary debate held last week to discuss the forthcoming Small Business Bill, Hancock said he would work with the Labour party and the industry to clampdown on the use of retentions.
Hancock said: "We are working with industry to move to a position where retentions are no longer necessary, and I would be happy to work with the opposition members to push that further."