Research underscores contraction of grocery store new-build sector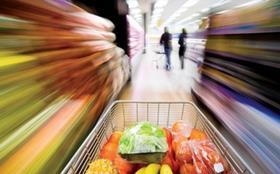 The amount of supermarket space under construction has dropped by 20 per cent over the past 12 months as the sector's biggest players divert funds from expansion to price-cutting, according to a report.
Data from CBRE shows 2.80 million sq feet of space was under construction in September last year, down from 3.51 million sq feet in the same month in 2013.
The property firm said the latest industry snapshot showed that just 6 per cent of Britain's grocery-store pipeline was being built and that the pipeline had declined by 4 per cent since its 2012 peak.
However it added that many of the 500-plus 50,000 sq feet sites in the current pipeline appeared to be "parked rather than dropped".
CBRE said the "big four" of Tesco, Sainsbury's, Morrisons and Asda were seeking to protect their market share at the expense of building new stores at the same rate as before.
Chris Keen, director of the firm's supermarket lease consultancy team, said the current market picture was "much more complex" than squeezed household incomes driving consumers towards budget retailers Aldi and Lidl.
"The rapid pre-recession market-share growth achieved by the big four was largely due to a huge wave of grocery stores released variously by the closure of Somerfield, Kwik Save, Safeway and Netto," he said.
"The big four also captured substantial trade from Co-op. It was when these easy gains finally dried up five-to-six years ago that the big four embarked on a major development push designed to protect market share gains. It is that development push that has now ground to a halt.
"Construction and completion levels have fallen. It is too early to say whether we are looking at a hiatus or the onset of an actual long-run decline in UK grocery store development activity. A sea-change in grocery markets is however certainly occurring."
CBRE's report added that in contrast to supermarket development, the rate of convenience store openings showed no sign of declining yet and was "exacerbating trade diversion" from grocery stores.