Chain could open 60 new stores in southern England in next three years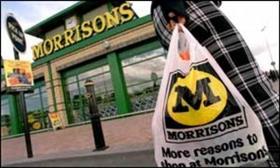 Supermarket chain Morrisons has unveiled expansion plans that could see it build some 60 new stores in southern England over the next three years.
The nation's fourth-largest supermarket, traditionally focused on the north, said it planned to increase its 'fresh market' space in the region by 1.25m ft2 between now and 2015, with a particular focus on boosting its presence inside the M25.
At a time when rivals including Tesco have indicated a deceleration in their expansion plans, Morrisons' plan to increase its southern foothold offers a potential source of relief to the construction sector.
The company declined to give an exact figure for the number of new stores it plans to open, but its store sizes range from 20,000-40,000 ft2. It said the figures detailed in its expansion plans excluded new M-Local convenience stores, but could include the expansion of some existing stores.
Paul Zuccherelli, head of retail at Davis Langdon, said that while he did not believe there was a shortage of supermarkets in southern England, Morrissons was picking an opportune time to expand.
"The economic environment makes it the perfect time to do this," he said.
"Finding the right sites and paying the right amount for them will be the key because predicting what the retail environment will be like in two-to-three years is really, really tough."
Kelly Forrest, senior economist at the Construction Products Association, said Morrisons was not alone in driving its expansion plans, pointing to Waitrose and Marks & Spencer's as examples of others plotting similar courses.
"Retail is surprisingly strong," she said.
"Supermarkets account for over one-third of the construction pipeline alone
"Morrisons are probably picking just the right time to expand into an area where they are historically under-represented."
Morrisons said it expected its 1.25m ft2 south of England expansion plans to account for two-thirds of its UK growth over the next three years.
In the longer term, it said it expected to see its current 30 London supermarkets more than double in number over the next five years.
The company declined to give details of how it would secure contractors for its expansion plans.