Companies prioritising short-term financial goals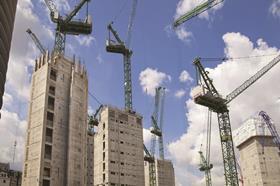 Almost 50% of construction firms are more concerned with immediate financial goals than long term business resilience, according to a survey by an industry thinktank.
In a survey from Constructing Excellence off the back of Carillion's collapse, 43% of firms said immediate financial goals were more urgent than the long term survival of the firm.
The survey of 100 senior business managers and executives from construction companies, found there were several key barriers to long-term business resilience within the industry.
Don Ward, chief executive of Constructing Excellence, said: "The collapse of Carillion has kick started a wide-ranging debate about the causes, including how underlying business models need to change.
"The report asks whether the industry is built on a house of cards, which it surely is, and the call to action for companies to assess their ability to respond to incremental changes and sudden external disruptions and to act on these findings is therefore extremely timely."
It was found that 27% of respondents had inadequate budget to invest in the future of their companies, while a lack of skills or knowledge related to ensuring business continuity was also an issue for the leaders of 27% of companies.
The report's recommendations include government leadership with a focus on the resilience of the construction industry; including skills and training, digitisation, procurement approaches and pipeline visibility