Survey shows over half of MPs rate sustainability of building products among lowest priorities for new homes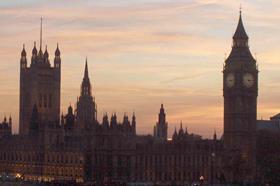 The sustainability of building products is at the bottom of MPs' agenda when discussing policy on new housing developments, according to a survey by campaign group Wood for Good.
The survey of 100 MPs found that 57% of them ranked the sustainability of building products and materials among their two lowest priorities for the development of new homes.
However, it also found that 36% put energy efficiency among their top two concerns.
The survey, carried out by parliamentary research specialist Dods, found that construction costs came top of MPs concerns when discussing the construction of new homes.
Dave Hopkins, head of external affairs at Wood for Good, said putting costs ahead of sustainability was "short-sighted".
He added: "It's particularly counter-intuitive that while the benefits of timber construction appear to be widely appreciated, the majority of UK housing continues to be delivered through carbon intensive building methods. Low cost and high environmental performance needn't be mutuallyexclusive."
The study found that 68% of Conservative respondents put the cost of construction in their top two priorities, compared with only 46% of Labour MPs.