Railway's boss says cost of dealing with disruption will hit £200m by time scheme is finished
The company behind the HS2 railway has applied to the High Court for an injunction against dozens of protestors to stop them disrupting work along the entire length of the route which has so far cost the project more than £120m.
Among the 63 people named in the action is veteran environmental activist Daniel Hooper, better known as Swampy, who became nationally famous during the anti-roads protests in the 1990s.
Others named in court papers include Scott Breen, known as Digger Down, Bethany Joy Croarkin, also known as Yogi Bear, Jacob Harwood, also known as Groovella Deville, and Leanne Swateridge, sometimes known as Flowery Zebra.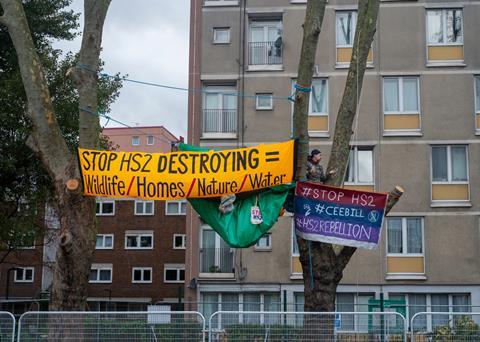 Earlier this month HS2 Ltd chief executive Mark Thurston told a committee of MPs that the scheme had spent £122m dealing with protestors – and said it expected spending on the problem to go up to £200m by the time the first stage of the route between London and Birmingham is completed.
In papers filed at Birmingham High Court, HS2 and the secretary of state for transport said the injunctions would deter "violent" activists and protect its staff.
The hearing, which began yesterday at Birmingham County Court, is set to run for several days, with a judgement expected next week.
The proposed injunctions would prohibit trespass and obstruction of access on land owned by HS2 and the government on phase one and phase 2a which runs between the West Midlands and Crewe.
Lawyers for the railway said their purpose is "simply to allow [HS2] to get on with building a large piece of linear infrastructure".
They added: "Its purpose is not to inhibit normal activities generally, nor to inhibit the expression of whatever views may be held. The fundamental disagreement with those who appear to defend these proceedings is as to what constitutes lawful protest.
"The Claimants say that they are faced with deliberate interference with their land and work with a view to bringing the HS2 scheme to a halt."
HS2 said that among the incidents which have happened since work began in earnest two years ago are protesters using lock-on devices to resist removal from "dangerous" hand-dug tunnels such as those near Euston.
It said HS2 security officers have also been verbally abused, slapped, punched and spat at while protestors have thrown human waste and a smoke grenade at contractors.
Other tactics include obstruction of sites by lying in front of compound gates and, in one case, dumping a boat in front of a site entrance.
In another instance, an activist is alleged to have climbed beneath a 13-ton tracked extraction vehicle stationed on soft ground, which the papers said put "life at considerable risk through potential for crushing".
But the Wildlife Trusts, a collection of conservation charities which has opposed the project because of its ecological impact, warned that a route-wide injunction threatened the right to protest and that it would prevent ecologists and other experts from visiting HS2 sites to ensure rules are being adhered to.
>>> Which construction firms have landed HS2 contracts so far?
"This is an extraordinary request from HS2 Ltd, and one that also sets a very dangerous precedent if it is permitted by the courts," said Nikki Williams, director of campaigning.
"People should have a right to make their voices heard, and anyone who wants to visit and enjoy the countryside and nature reserves near or around the HS2 route should not have to do so in fear. The court should refuse to grant the injunction that HS2 Ltd has applied for."
A spokesperson for HS2 Ltd said: "If granted by the Court, we hope that this injunction will act as a significant deterrent to often violent activists and reduces the incidences of trespass and obstruction on our worksites that endangers the health and safety of our staff and those protesting."
In this year's Queen's Speech, the government announced its intention to introduce new laws, which could see protestors jailed for up to 13 months if they damage infrastructure projects.
HS2's appeal for an injunction comes after contractors on one of its projects were reportedly told to stand down after running out of cash.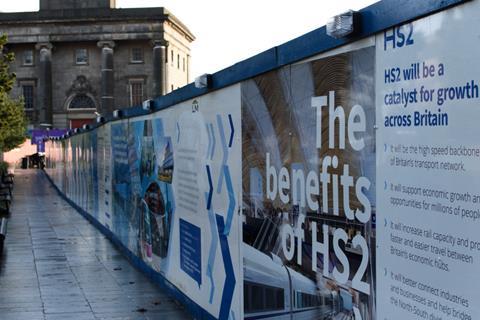 Restoration work on Birmingham's iconic Curzon Street Station, which is being carried out by Laing O'Rourke/Murphy JV, has been paused until additional funding can be located.
The grade-I listed structure, which opened in 1838 but was closed in the 1960s, has so far been funded through a housing regeneration grant, rather than the HS2 Act, and is set to be used as a HS2 visitor centre.
The HS2 spokesperson said: "During the current stage of the project our contractors working on the Old Curzon Street Station restoration identified serious unforeseen structural issues with the building.
"We have temporarily paused the restoration project while we work with our partners and funders to identify further heritage funding to fully restore this iconic landmark for the city."