Consultant posts strong full-year results powered by rapid growth in infrastructure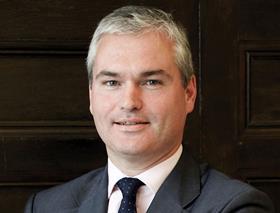 Consultant Turner & Townsend is likely to decide whether or not to float on the London Stock Exchange within 12 months, the firm's chief executive has said.
Turner & Townsend (T&T) - which today posts a fifth successive year of growth in strong financial results for the year to 30 April 2014 - has been eyeing a potential float ever since it shelved plans for an initial public offering (IPO) in 2008 due to turmoil in the financial markets.
Speaking to Building this week, T&T chief executive Vincent Clancy said: "The market is the strongest it's been since 2007 […] We continue to review the option of an IPO. Over the next 12 months there will be progress on this issue."
Clancy said the T&T board is reviewing the firm's "ownership model" with the help of financial advisors and an IPO was the "option in play", although the board "won't rule anything out".
However Clancy said the firm would not follow rival UK consultants such as Davis Langdon and EC Harris in selling up to larger firms: "We will continue to seek bolt-on acquisitions. We don't see ourselves as a firm that will be consolidated, we see ourselves as a consolidator, on our own level."
T&T posted a 12.5% increase in revenue to £322.2m, up from £286.3m the previous year, while pre-tax profit grew 12% to £33.3m, up from £29.7m.
In the UK, revenue grew 11.4% to £148.2m, up from £133m, while operating profit grew 14.9% to £16.5m, up from £14.8m.
Revenue across the firm's seven international divisions grew 13.4% to £173.9m, up from £153.4m, while operating profit grew 13.7% to £17.4m.
The firm's North America, Middle East, Asia and Europe divisions grew, while its African, Latin American and Australian businesses contracted, which Clancy attributed to their exposure to "flattening" natural resources markets, particularly mining, and the strengthened pound relative to their trading currencies.
T&T's infrastructure division grew strongest over the period, with revenue up 21.2% to £91.3m, up from £75.3m, while the firm's property and natural resources divisions also grew, both by 9.4%, to £154.1m and £76.7m respectively.
Clancy said T&T's infrastructure division was boosted by "deploying resources into Africa, Asia and the Middle East […] It's the culmination of many years of investment."
Major infrastructure wins over the period included securing the delivery manager role on the £4.8bn North West Rail Link in Sydney, while the division is working on schemes at five airports in the Middle East.
T&T also announced a shake-up of its senior management team this week, with Steve McGuckin promoted to become the firm's first global managing director for property.
Jon White fills the role of UK managing director, vacated by McGuckin, while James Dand steps up to become Europe managing director, replacing White.
Steve Waltho has joined from Aecom to become cost management director for the UK regions.