But firm says underlying profit up 10% last year and says business in 2018 looking strong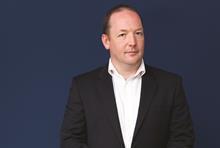 Taylor Wimpey says it has made a strong start to the new year after building close to 15,000 homes last year which helped send underlying profit up 10% to £812m.
It said demand was solid coming into the crucial spring selling season with the firm working on 97% of its sites that have planning.
Chief executive Pete Redfern said: "We have been encouraged by early trading patterns at the start to the year and despite some wider macroeconomic uncertainty, consumer confidence remains robust and market fundamentals are solid."
Redfern (pictured) was speaking as the country's second-largest housebuilder saw revenue jump last year by 8% to £3.96bn with operating margins edging up to 21.2% from 20.8%.
But overall pre-tax profit was blunted after the firm set aside £130m to help homebuyers affected by the leasehold scandal.
Taylor Wimpey said last April it had earmarked the sum to help leaseholders who bought homes with high or escalating ground rent charges. Pre-tax profit fell from £733m in 2016 to £682m.
The firm, which last summer paid the Royal Mail close to £200m for a scheme to turn the Mount Pleasant Sorting Office site in central London into nearly 700 homes, said the average cost of building a home had gone up £6,500 to £143,700 which it said was mainly down to pressure on resources such as labour.
Taylor Wimpey added that it will begin trialling a new house design drawn up by Open Studio Architects on some of its sites later this year.
The housebuilder teamed up with the RIBA for a competition to find an architect to come up with a new style of home with the initiative attracting more than 100 entries.
It said the government's Help to Buy scheme was remaining popular with its customers and said that pricing in its central London market was stable. It added that it had improved its performance in Spain, where it sells homes on the Costa Blanca and Costa del Sol, with operating profit there jumping 30% to £26.8m prompting Cenkos analyst Kevin Cammack to wonder if it should be sold.
The firm added that it had carried out a review of its schemes following last June's Grenfell tower fire which killed 71 people with the Aluminium Composite Material cladding coming under the spotlight.
It said it had been working with fire safety experts, local fire and rescue services as well as building owners and management companies.
It added: "On sites where there are tall buildings with Aluminium Composite Material cladding, we have sought advice from independent fire safety experts, and, where required, have put in place additional measures to ensure that the buildings are fully compliant with the Government's guidance on interim fire safety measures."
The firm said it plans to return £500m to shareholders this year with "further material capital returns" slated for next year and beyond.
It cut its annual injury incidence rate for reportable injuries by 28% to a record low of 152 per 100,000 employees.