Project completed in just nine weeks, opening three weeks before planning approval was given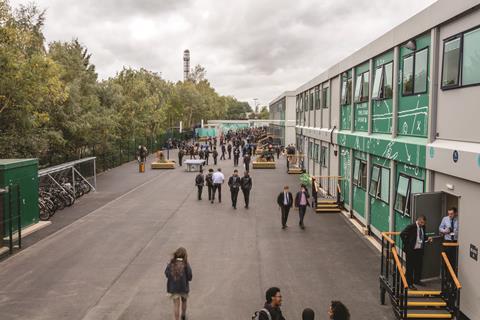 Nearly 200 construction workers were on site at the peak of a scheme to build a temporary new home for a secondary school made uninhabitable by this summer's Grenfell Tower fire.
The full story of the project to build a new school for the nearly 1,000 displaced pupils of Kensington Aldridge Academy is told in this week's magazine, with planning permission for the work finally given just over two weeks ago – 23 days after it opened its doors to 760 pupils.
The school's £26m permanent building, which sits at the foot of the tower in west London where up to 80 people lost their lives, has been out of action since the inferno in June.
Planning approval for the temporary school, built on a former Ministry of Defence parade ground, was requested from Hammersmith and Fulham council on 8 August and finally given on 11 October.
By that time, more than 200 modular units built by main contractor Portakabin, owned by York-based Shepherd, had been craned into position by a site team that grew from a dozen to almost 200 workers during the final week of work.
Explaining the decision to press on with building work – where Mace was technical adviser – before planning was granted, Sue Archer, project manager for the Education and Skills Funding Agency said: "Everybody knew […] We told them we couldn't put in a planning application until August because we wouldn't have designed the building before then."
A deal to use the parade ground, signed at the end of June, runs for 70 weeks before it reverts back to its original use.
Read more about the Kensington Aldridge Academy project
Watch a time lapse video of how the project was completed in nine weeks