The £112m rebuild of Glasgow Queen Street station has gone out to tender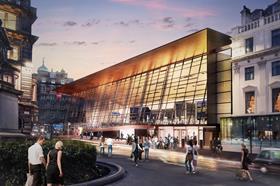 Network Rail has launched the £112m tender for the rebuild of Glasgow Queen Street station, Scotland's third busiest station with 20 million passengers annually.
The contract for the project, being funded by the Scottish government, is expected to be awarded in autumn 2016 with completion scheduled for 2019.
The station needs to expand to meet the predicted 28 million passengers a year it will serve by 2030 and to accommodate the electric trains being introduced to Scotland's railway as part of the £742m Edinburgh-Glasgow Improvement Programme (EGIP).
The redevelopment will see the demolition of the Millennium Hotel's 1970s extension above the station as well as Consort House and the extension of platforms and concourse.
The project will be overseen by ScotRail Alliance – a management team created from Abellio ScotRail and Network Rail.
Phil Verster, managing director of the ScotRail Alliance, said: "This is another tremendously exciting step forward in our plans to transform Scotland's railway. We recently announced our largest ever train improvement plan, which will deliver new trains, thousands of extra seats and great facilities such as at-seat power points and enhanced Wi-Fi across our fleet.
"Today we are confirming that one of our busiest and most important stations will also be transformed, making it larger and with much better facilities for our growing number of customers."
Rodger Querns, programme director for the Edinburgh Glasgow Improvement Programme, added: "This is further good progress in the delivery of EGIP.
"We have already successfully completed a number of key elements of EGIP including the electrification of the Cumbernauld Line and Haymarket station and are on the ground across the Edinburgh-Glasgow railway preparing the line for electrification and building Edinburgh Gateway Interchange at Gogar, where we are also making good progress."