Swedish firms launch 'One Tonne Life' project to show households can reduce emissions without sacrificing lifestyle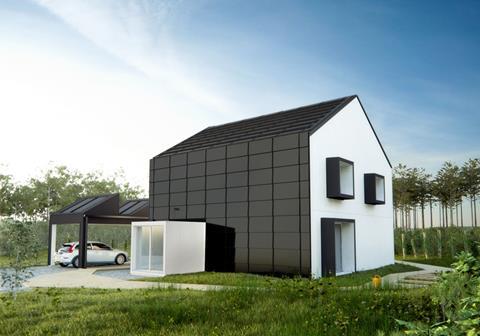 Three Swedish companies have launched a project to test whether a household's emissions can be reduced to near one tone per person per year yet at the same time live a regular life.
The family will live in a "limate-smart" house with solar cells on the roof that are used to recharge a electric car.
The "One Tonne Life" project has three main components:
An energy-efficient house built by wooden house experts A-hus to plans drawn up by architect Gert Wingårdh.
A battery-powered Volvo C30 DRIVe Electric that is recharged using renewable energy.
Vattenfall will equip the house with smart new technology to measure the family's electricity consumption in real time and will provide expertise on how the family can use energy in the most efficient way. Vattenfall will also provide solar cell technology developed by a subsidiary company and supply renewable windpower and hydropower electricity via the mains power grid.
Experts from the Chalmers University of Technology will take part in the project in order to ensure a reliable calculation of the family's carbon dioxide emissions.
"One Tonne Life" will demonstrate in concrete terms what it means for a family to live with a small carbon dioxide footprint. With the right know-how, the right technology and a consistent attitude, we believe it is possible to approach the one-tonne target already today – and without making any major sacrifices to one's regular lifestyle," says Torbjörn Wahlborg, managing director of energy provider Vattenfall Nordic Region.
The house is currently being constructed in Hässelby Villastad in the western parts of Stockholm and now the hunt for a family to move in and live in the new house for six months starting in early 2011.