Covid-19 blamed for delay and rising costs of the project
The Thames Tideway Tunnel will not now be ready until the first half of 2025, according to an update to investors in the project.
The 25km "super sewer", which is being built under the river Thames by a Bam, Balfour and Morgan Sindall joint venture, was due to be completed by 2024.
The announcement, made yesterday, revealed that the impact of covid-19, which saw work virtually grind to a halt earlier this year, means that the tunnel will be significantly delayed.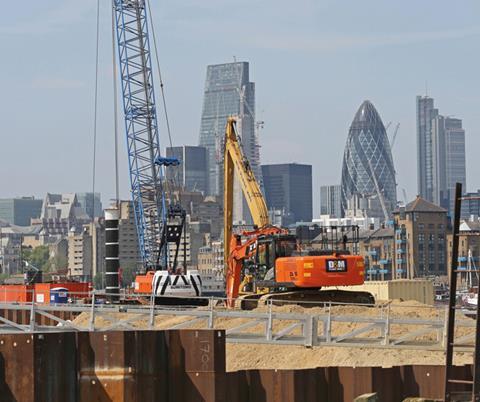 It said: "The company's latest modelling indicates construction work, which was due to be completed in 2024 (the project 'handover' date), is now likely to be completed in the first half of 2025, adding nine months to its current schedule."
Work on the super sewer, which will run from Acton in west London to Stratford in east London, started in 2016 and was originally scheduled to be completed by 2023.
Not only has the project been further delayed, but the costs are rising too.
The update said: "The approved revised forecast adds £233m to the previous forecast, taking the estimated project cost to £4.133bn."
This comes just weeks after Tideway announced that the cost of the project had risen by £100m to £3.9bn, with the handover date pushed back from March to June 2024.
Investors were told last month that the project went from 21 active sites down to three and from 1,715 workers on site in mid-March to a low of 150 before all sites were up and running again at the end of May.
Tideway is currently in discussions with Ofwat "on a package of measures that would mitigate the financial impact of COVID-19 on the company."
It added: "We are making progress in these discussions and we expect to reach a full agreement in the coming months."