Tory MP Dame Cheryl Gillan called for the prime minister to can the project in favour of other schemes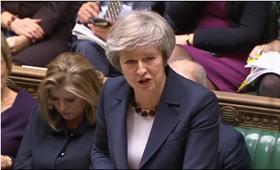 As well as battling to save her Brexit withdrawal agreement prime minister Theresa May has been forced to defend an attack on the HS2 rail scheme, with one Tory MP labelling the £56bn project "deeply unpopular".
During prime minister's questions yesterday Tory MP Dame Cheryl Gillan, whose north-west London constituency of Chesham and Amersham will be affected by HS2, went on the attack, calling for May to ditch the project in favour of other schemes.
Gillan said: "Every member of this House knows that drivers and commuters want greater investment to repair our roads and upgrade our railway services, yet we are wasting money on a deeply unpopular project, where the management has failed and the costs are out of control.
"It will end up costing the taxpayer more than £100bn. That is about £300m per mile of track."
May defended the project, saying it was about more than just delivering a high-speed rail route.
"On the question of HS2, it is not just about a high-speed railway; it is about ensuring that we have the capacity that is needed on this particular route, because we are already reaching capacity on the west coast main line."
She also said the benefits of HS2 were already been seen, with 7,000 jobs created across the UK and 2,000 businesses working on the scheme.