Firm says move to another site in city prompted by covid and chance to embrace new working practices
Scottish consultant Thomas & Anderson will leave its historic Edinburgh home next year after more than 80 years at the same address as it prepares to usher in a series of new working practices brought about by the covid-19 pandemic.
The firm has been at its current base since it was set up in 1935 but next February will swap Wemyss Place for an office at the Quatermile development, the Foster & Partners-masterplanned mixed-use scheme that is being built on the site of the old Edinburgh Royal Infirmary and which T&A has also been working on.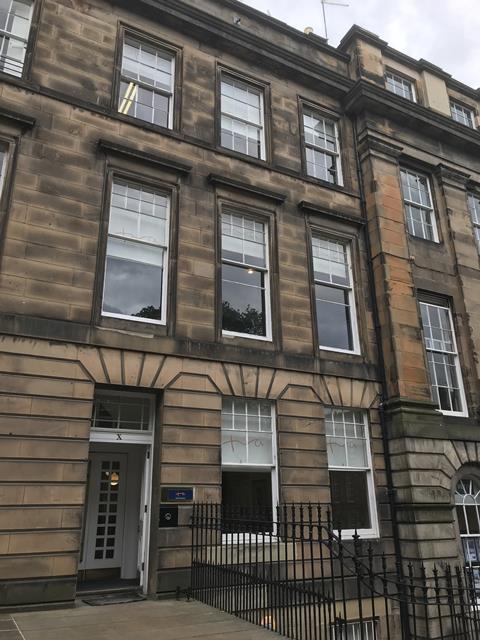 T&A has introduced a 'New Ways of Working' initiative which is designed to see staff take more personal responsibility for their working day – rather than adhering to the traditional 9 to 5 routine.
Around 50 staff work out of Wemyss Place but the firm's desk space at its new office in the Scottish capital will be slashed from 55 to just over 20.
Senior partner Alastair Wallace said it will also include quiet zones, meeting lounges, a coffee shop and event space as the aftermath of covid-19 sees more firms rejig the traditional office environment.
T&A is also leaving its Glasgow home of 40 years with its 25 staff relocating from Woodside Terrace to Libertas House in the city's business district.
Wallace said the firm had already been looking at ripping up its traditional ways of working when the covid-19 pandemic struck earlier this year.
He added: "Our current buildings [in Edinburgh and Glasgow] are not going to deliver what we want. What covid has done is prove [this] can work. It's given us the belief and confidence to press right ahead with what we're doing."
The firm, which is on the PM framework for BT Property around the UK, has around 25 people working out of its London office in Haymarket with this office also set to be rejigged once the moves north of the border have bedded in.
Wallace said turnover in its current financial year, which wraps up at the end of January, would be slightly below last year's number of £8m.