Federation of Master Builders latest survey finds workloads for SME builders have begun to increase for the first time since the recession began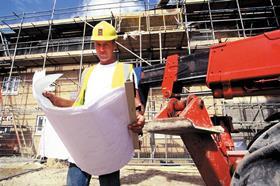 Workloads for SME builders have begun to increase for the first time since the recession began, the Federation of Master Builders' (FMB) latest state of trade survey has found.
The survey found that in the second quarter of this year the net balance for overall workloads, representing the percentage of responses reporting higher workloads against those reporting lower workloads, was positive for the first time since Q4 2007, as it increased 32 percentage points quarter-on-quarter to +11.
The proportion of firms reporting workloads were higher rose to 34% from 18%, whilst 23% of respondents indicated that workloads were lower in Q2 2013, down from 39% in the first quarter.
The FMB said improvements were seen across all sectors, with the greatest rise in commercial work.
However, in Scotland a negative net balance of -26 was recorded, showing that conditions had deteriorated in the second quarter.
The FMB said that overall there were signs are that business confidence was starting to improve among SME builders.
Brian Berry, the chief executive of the FMB, said: "After one of the toughest and most sustained economic downturns since the Second World War, it is encouraging to see conditions may be easing for Britain's beleaguered builders.
"It is a testament to the resilience, work ethic and professionalism of SME builders, many of whom have had to cut their cloth accordingly and eat into their profits to maintain staffing and capacity in the hope that a better day would come."
"While these figures are a sign that the worst may finally be behind us, the building trade has a long way to go to get back to pre-2008 levels of employment and output, and there are many hurdles still to overcome.
"We must not be complacent, as consumer confidence is fragile at best."