Urban Splash's chief executive calls carbon credit schemes "absolute nonsense" as British Land announce its own offsetting plans
Urban Splash chief executive Tom Bloxham has slammed the use of carbon off-setting to create low carbon developments.
Speaking at the Think conference today, Bloxham said off-setting was a waste of time and didn't help create sustainable communities.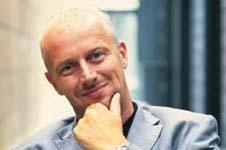 He said: "Carbon [offsetting] is absolute nonsense. It has nothing to do with sustainability."
Bloxham was backed in his criticism by MP's from all parties, including shadow construction minister Mark Prisk.
Labour MP Alan Simpson said off-setting was "the biggest scandal of our time". He used an example of a website, called cheatneutral.com, which allowed people to "offset" their relationship infidelities to explain that he believed that off-setting was simply an excuse not to rise to the responsibility of tackling climate change.
He said: "Does this mean an end to infidelity? No."
Bloxham made his comments at Sustainability Question Time, chaired by Sue MacGregor, at the Think Conference in east London. Other members of the panel included Chris Huhne MP and HOK International chair Bill Valentine.
The news comes as British Land chief executive Stephen Hester announced at Think that his company is searching for credible offsetting schemes to help it achieve its ambition of becoming carbon neutral by the start of the financial year 2007/08.
Meanwhile, Bloxham also attacked the government's record on green public buildings, saying its current offerings did not set an example for the rest of the industry.
Valentine also said the government should "lead by example" but that it was not doing so.
Prisk said climate change fell outside of party politics but pointed to the National Audit Office's report last month that salmmed the green credentials of the governmet estate.
He said: "Just 33% of new build and 18% of refurbishments are meeting set targets."