Gleeds boss says UK has hung out 'you're not welcome' sign to EU workers as labour shortages top company concerns
The UK needs to be more attractive to overseas labour if construction is not to face the same crisis currently engulfing the country's petrol station forecourts, some of the country's leading consultants have told Building.
A shortage of HGV drivers and panic-buying has led to huge queues at petrol stations with many now having to turn away motorists because they have run out of petrol.
Ahead of the return of Building's Top 150 consultants league table next month, the issue of access to labour is emerging as firms' biggest concern for the coming year.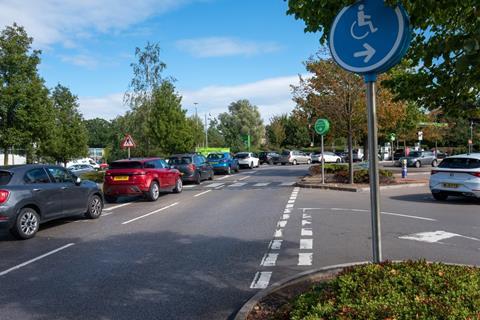 Gleeds executive director Douglas McCormick said the "inability to get European labour into this country…means it may take longer to get jobs done".
He added: "[The UK] has hung out the 'you're not welcome' sign to these people and that's not good. We will be standing in a longer queue for overseas workers.
"We do need to get over the reluctance to make foreign labour feel welcome. There needs to be some easing on the [shortage occupation] list of those who can come in.
"Leaving [the EU] has created a greater level of uncertainty and complication."
And Rider Levett Bucknall chief executive Andy Reynolds said: "The [HGV] driver crisis is an indication of what we're approaching in construction."
He said the knock-on effects of covid-19 and Brexit had helped stretch supply chains to breaking point. "I'm sure we wouldn't be feeling this quite as much if either hadn't occurred."
An exodus of EU workers from the UK has left the industry facing an acute shortage of labourers in some specialist trades.
Employment in the sector fell from 2.3m in 2017 to 2.1m at the end of 2020, representing a 4% fall in UK-born workers and a 42% fall in EU workers, according to the Office for National Statistics (ONS). The latest ONS figures show that vacancies were at a 20 year high between May and July this year with 38,000 jobs left unfilled.
CBI director general Tony Danker said: "We can't simply turn to immigration to solve [long-term labour shortages]. But in the short run, there is no solution other than to look that way."
More than 500,000 UK-born construction workers are expected to retire in the next 10 to 15 years and Alinea co-founder Iain Parker said: "Everyone you talk to is really worried about labour and where it comes from – and firms having to pay through the roof for it.
"I do fear when the market really gathers pace, the industry will struggle to respond. [Modernise or Die author] Mark Farmer is right. It's a ticking timebomb."
Farmer, whose 2016 report warned the traditional labour model was no longer sustainable, said: "The HGV driver labour market has so many of the characteristics of the construction industry. Firstly, it has an ageing workforce. Secondly, it is struggling to recruit new drivers. Thirdly, it has built a dependence on non-UK drivers to backfill the void that domestic workers now refuse to fill."
Earlier this month, British Land's head of development, Nigel Webb, told Building: "The [shrinking] workforce is a huge problem for us. There are only two ways we are going to get round it. One is less reliance on the workforce, which means more offsite manufacturing, and the second is making sure we skill people up appropriately."
But in a report out today, recruitment firm Randstad played down the impact of Brexit on labour supply and said the current shortages were a result of a post-covid workload boom.
Adrian Smith, senior director of operations at Randstad UK, said: "Essentially, this is not primarily about a constriction in the supply of labour. Workers are back in power because of the success of the vaccine rollout and the removal of lockdown restrictions – and the resulting economic bounce back."