Stephen McPartland accuses the government of lacking the will to fix cladding scandal
A backbench Conservative MP who has led attempts to prevent leaseholders from being hit by fire safety costs has slammed the government's Building Safety Bill published today.
Stephen McPartland, MP for Stevenage, strongly criticised the government's proposals which include giving homeowners a retrospective right to sue for defective building work up to 15 years after the completion date.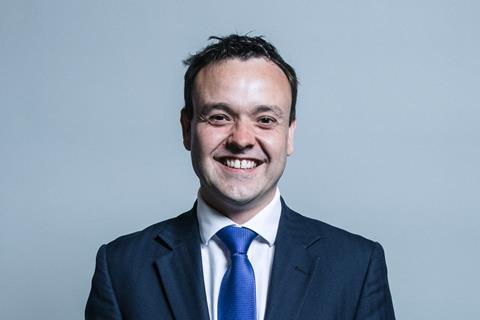 McPartland, said: "We know leaseholders don't have the money to fund legal action and this is another sticking plaster instead of a solution."
McPartland said that instead the government must "step in to help leaseholders, provide a real safety net and fund making our buildings safe." He said those responsible should be forced to pay through levies.
"[The government should] take a risk based approach, remove VAT on remediation bills and control insurance costs with a government-backed indemnity," he said. "There is so much we could do to help leaseholders if the will was there."
McPartland, along with fellow Conservative MP Royston Smith, tabled an amendment to the Fire Safety Bill earlier this year to protect leaseholders from paying for historic fire safety costs. The amendment was passed by the House of Lords but later overturned by the Commons.
McPartland's comments suggest the government could face attempts to amend today's bill as it makes its passage through parliament.
The government's Building Safety Bill, published today, contains a package of measures to improve building safety and rights for leaseholders following the Grenfell disaster and resulting cladding costs scandal.
In addition to increasing the time limit for legal action against developers for defective building work, the bill would impose a legal requirement on building owners to explore alternative ways to meet remediation costs before passing these on to leaseholders.
The bill also establishes a Building Safety Regulator for buildings more than 18m in height. Developers would also have to join and remain members of the New Homes Ombudsman Scheme, which will require them to "provide redress" to a home buyer.
The bill will include powers to strengthen the regulatory framework for construction products, underpinned by a market surveillance and enforcement regime.
At-a-glance: Building Safety Bill measures
According to MHCLG, new bill, published today, includes:
Ensure there are clearly identified people responsible for safety during the design, build and occupation of a high-rise residential building.
Establish a Building Safety Regulator to hold to account those who break the rules and are not properly managing building safety risks, including taking enforcement action where needed.
Give residents in these buildings more routes to raise concerns about safety, and mechanisms to ensure their concerns will be heard and taken seriously.   
Extend rights to compensation for substandard workmanship and unacceptable defects.    
Drive the culture change needed across the industry to enable the design and construction of high-quality, safe homes in the years to come.
Source: MHCLG