Consultant says weak design leads to poor productivity, long-term sickness and has impact on staff recruitment and retention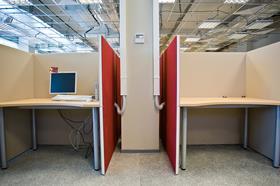 Toxic workplaces are jeopardising employee wellbeing, leading to poor productivity, long-term sickness and ultimately impacting staff recruitment and retention, according to Aecom.
The firm is urging organisations to "detoxify" their workplace by designing it to focus on employee wellbeing.
It argues that a lack of focus on wellbeing could lead to firms losing talent and reducing profit.
Aecom suggests firms can improve employee wellbeing by reducing internal pollutants with proper ventilation, using plants to recreate the natural world in the built environment, and using data to design, prepare and measure high performance in buildings.
Nicola Gillen, global practice lead at Aecom, said: "Redesigning and reimagining the workplace to better support how work is done not only enhances wellbeing, it also improves performance and productivity.
"With four generations occupying the same space, it is important the physical environment meets their different working styles."
Aecom's comments come after it opened its new London headquarters, moving more than 1,000 staff from across the capital into Aldgate Tower in the City.
Last month plans were announced by the BREEAM and WELL building standards to collaborate and recognise sustainability and wellbeing best practice.