Transport secretary in firing line again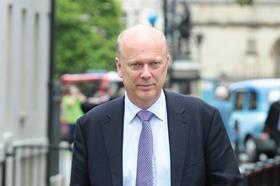 The chair of the transport select committee has slammed transport secretary Chris Grayling (pictured) amid reports HS2 is facing a 12 month delay.
Labour MP Lilian Greenwood said if the reports were true it was "poor start to the new parliamentary year for the transport secretary".
Concerns about the £56bn project's timeline have arisen following a report from The Times which said the government was preparing to delay the bill by 12 months.
The paper said legislation needed for the second section of HS2 to serve northern England has been put on hold for a year, saying the bill which will enable the line to be built to Manchester and Leeds will now be tabled in 2020.
Greenwood said: "It's yet another potential delay to a large and complex transport infrastructure project and raises further doubts over the government's commitment and willingness to invest in the Midlands and the North.
"Ultimately, this project was meant to be the 'great economic conduit' for the North and part of the plans to rebalance economic growth in this country.
"Without HS2 Phase 2b, the potential transformation to connectivity across the Midlands and to the great cities of the North and Scotland will be lost.
"The line is scheduled to open in 2033 and rail passengers, local authorities, MPs and businesses will require reassurance that the timetable will not slip."
Greenwood also flagged concerns about cost, saying ministers needed to open up about the project's financial position.
She said: "It's a poor show that MPs and the public are finding out through a third-party."
Last week, one of Grayling's predecessors, Lord Adonis, accused him of trying to bury bad news when announcing that Crossrail's opening had been delayed by months.