Unite boss calls for 'full disclosure' and likens practice to a 'low budget spy film script'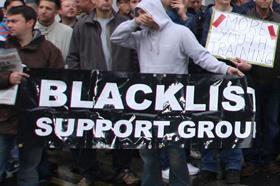 The culture of blacklisting revealed by files seized by the Information Commissioners Office (ICO) reads like "a low budget spy film script", Unite's assistant general secretary told the TUC Congress in Brighton yesterday.
Gail Cartmail called on unions to support a day of action to help expose the "disgrace" of blacklisting.
Last week, Cartmail told the Scottish Affairs select committee that she believes that Balfour Beatty Engineering Services and its head of HR, Gerry Harvey, continue to be involved in blacklisting - a claim strongly denied by the firm.
Cartmail showed delegates a packet of unredacted files that had come into the union's possession from the blacklisting organisation, The Consultancy Association, now held by the ICO following its seizure in 2008.
She said: "These are just a handful of files, but each name is a person – a family – a life ruined.
"The contents read like a low budget spy film script, using codes and cross references. We had to write to the members named to tell them they are blacklisted – this cannot be right. We want full disclosure."