Byrne Brothers and Gordon Dunne to fight for concrete package on 22 Bishopsgate scheme in the City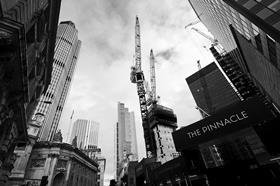 Concrete contractors Byrne Brothers and Gordon Dunne are understood to be the last two in contention for the concrete package on the £500m 22 Bishopsgate Tower being built on the site of the abandoned Pinnacle.
Two separate sources close to the scheme said the two firms were now set to fight it out for the prestigious job, the biggest in the City of London in the next few years.
The package, which separate sources valued at around £30m, is being let by the scheme's developer Lipton Rogers in conjunction with contractor Brookfield Multiplex.
Brookfield Multiplex is working on a construction management basis during the pre-construction phase, but is set to take over the job on a fixed price once designs are finalised and subcontractors chosen.
Byrne Brothers was the concrete contractor that built the stump of the previous Pinnacle scheme, which is now to be demolished, and therefore has detailed knowledge of the site. Gordon Dunne, however, has worked with Brookfield Multiplex on a number of contracts in recent years and is thought to have impressed the contractor with its work on the South Glasgow hospital campus.
Although the main package will go to either Byrne or Gordon Dunne, one of the sources said that because of the heat in the London market at the moment a resourcing review was being undertaken which could ultimately see some other players brought in. The source said some smaller elements of formwork might be given to other contractors so the developer could be sure there would be enough dedicated resource to complete all of the work on time.
Construction of the original Pinnacle scheme stalled in 2012 because of problems with funding. Building revealed earlier this year that the project had been sold to a consortium of Axa Real Estate and developer Lipton Rogers, and that a new scheme would be drawn up, called 22 Bishopsgate. A planning permission application is due to be submitted towards the end of June.
Brookfield Multiplex declined to comment on the story. Byrne and Gordon Dunne have been contacted for comment.