Governing body throws north London club a lifeline about hosting glamour tie at new home
Uefa has kept the door open to the possibility that Tottenham Hotspur might be able to play Champions League fixtures at its new home this season – provided Mace finishes it in time and it beats Borussia Dortmund in the next round.
The home leg of its last 16 game against the German league leaders will now take place at its temporary Wembley Stadium home on 13 February, after the club yesterday confirmed the 62,000 seat stadium will not be ready until March at the earliest.
Under the governing body's Champions League regulations, clubs are normally required to play all their matches in the competition at the same venue – which in Spurs' case would mean Wembley as the club played all three of its group games in the competition at its temporary home, qualifying for the knockout phases last week.
Article 24.05 of the UCL regulations says: "In principle, a club must play all its matches in the competition at one and the same venue."
But Uefa has now said there is still the "possibility" Spurs could play a home quarter final or semi final at its new ground.
A spokesperson told Building: "Uefa will remain in close contact with Tottenham Hotspur to assess the possibility of the club hosting Uefa competition matches in their new stadium this season, if the club qualifies for the next round of the Uefa Champions League."
The quarter finals are due to take place across four dates – 9, 10, 16 and 17 April while the semi finals will be held on 30 April, 1, 7 and 8 May.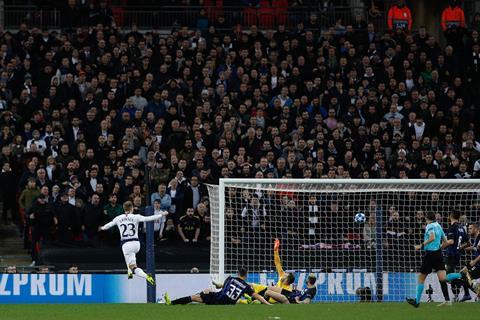 As well as the Dortmund game, Spurs' home Premier League games against Watford, Newcastle United and Leicester City will all be switched to Wembley. A possible FA Cup fifth round tie next month has been earmarked for Wembley as well.
The news means that its first game at its new stadium could be the north London derby against Arsenal which is currently scheduled for 2 March, although police concerns mean it unlikely this would be the first game.
By the time its March fixtures come around, Spurs will have played 13 of its 19 home league games this season at Wembley.
Brent council will decide next Wednesday on whether to increase capacity for Spurs' matches at Wembley to 62,000 and, for some fixtures, to 90,000 from the current 51,000.