As restrictions on Romanian and Bulgarian workers are lifted, industry is divided over immigration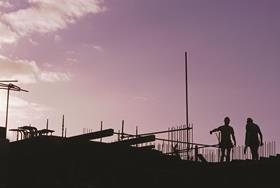 The construction industry is braced for a surge in migrants from Romania and Bulgaria seeking work in the UK, but remains divided about the effect immigration has on the sector, a survey undertaken by Building has found.
The survey of more than 200 construction industry professionals (attached right) carried out this week found that 74% of respondents expect to see a rising number of workers from Romania and Bulgaria seeking work in the UK construction industry this year. This comes after nationals from the two countries were granted full rights to work and claim benefits in any other EU country this month.
But the survey found the industry is divided over the effect of this expected increase in migrant labour, with 41% of respondents saying the impact would be negative and 30% saying it would be positive.
However, the survey found the general attitude to immigration in the industry is favourable, with 46% of respondents saying the effect of immigration on UK construction is positive, against 34% who said it is negative.
The survey also found that the balance of opinion favoured a reduction in the number of migrants coming to the UK to work in construction, with 38% saying numbers should be reduced, against 30% who said the numbers should be increased. A further 28% said the number of migrants should remain at its current level.
This is more favourable than the general public's attitude to immigration. Last year's British Social Attitudes Survey found that 77% of the public supported a reduction in immigration levels.
Stephen Ratcliffe, UK Contractors Group director, said he was not surprised that UK construction was more in favour of immigration than the general public as the industry had always relied upon migrants chasing work and this was "wholly a good thing".
He said the industry would be concerned if the government placed greater restrictions on the flow of migrant labour.
"Immigration helps the market to function properly. At the height of the last boom London was full of foreign workers and it was wholly a good thing. Anecdotal evidence is that they were good, well trained workers and did a good job.
"We don't really have an issue with immigration, but we would have an issue if politicians began to try and put greater controls or restrictions on what is a functioning market place."
Ratcliffe added it was important that all migrant construction workers had a proper induction into UK work practices, including health and safety, and had qualified for the industry's CSCS skills card scheme.
Brian Berry, Federation of Master Builders chief executive, said there were some concerns that migrants were undercutting the market, particularly at the beginning of the recession, but overall immigration helped address skills shortages.
"We will particularly need migrant workers as the industry picks up," he added.
Simon Noakes, managing director of Bespoke Recruitment and chair of the Recruitment and Employment Confederation's construction sector group, said the industry had yet to see a surge in workers arriving from Romania and Bulgaria, but he did expect numbers to pick up this year.
"There certainly hasn't been a flood of applications, but there will be work opportunities so numbers will increase," he added.
Noakes added that the fact that from this year the application process for the CSCS card would only be conducted in English, rather than other languages, would help ensure migrant construction workers would have a good level of English.
For the full results of the survey, see the document attached.