Construction output falls 11% year-on-year but is up 0.3% on the previous quarter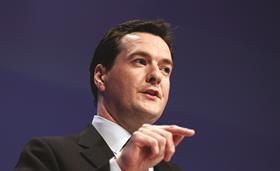 The UK economy contracted by 0.3% in the final quarter of 2012, raising the prospect of a triple-dip recession.
The latest GDP figures from the Office for National Statistics also showed construction output grew by 0.3% compared to the previous quarter, but fell 11% year-year-on-year.
The GDP figures come as deputy prime minister Nick Clegg admitted that the coalition government cut capital spending too deeply when it came to power, and raised the prospect of a boost to infrastructure spending in the forthcoming budget.
The ONS said year-on-year the economy remained flat. ONS economist Joe Grice said: "The economy was probably, in underlying terms, close to flat. It extends the pattern that we've seen now for some time of a bumpy economy but on a rather sluggish trend."
The main contributors to the 0.3% fall in GDP were the manufacturing and mining and quarrying sectors, which fell 1.5% per cent and 10.2% per cent respectively.
But construction overall fared slightly better, growing by 0.3% quarter-on-quarter - although outputs was down 11% year-on-year.
Noble Francis, economics director at the Construction Products Association, said: "The GDP figures released today show that the final quarter of last year was extremely difficult with the construction industry 11% lower then a year ago.
"Recent figures for new orders, which are a forward looking indicator for the industry, were 7% lower than a year ago and as a consequence the coming year is likely to see further contraction from what is already a very difficult position."
Francis said Clegg's comments on the need for a boost in capital spending was "welcome". "This is something the industry has been calling for, for two years. However, he must turn this sentiment into real activity if we are not to experience further decline across the industry and the wider economy for many months to come," he said.
In response to Clegg's comments and the GDP figures, UK Contractors Group director Stephen Ratcliffe said emphasised the economic benefits of investing in infrastructure: "Every £1 invested in construction generates £2.84 in economic activity, and through delivering capital programmes ministers can boost jobs and growth.
"Nick Clegg's comments on the value of capital investment were welcome and timely. While there was a slight upturn in construction output in the fourth quarter, conditions in the sector remain difficult.
"There is an urgent need to speed-up the delivery of infrastructure projects, and provide some clarity on levels of future capital spending to build industry confidence."