Ecobuild latest: Lack of clarity on regulations for non-domestic buildings is holding back the supply chain, report by the UK Green Building Council finds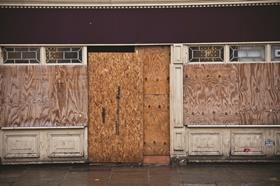 The government's "stop/start" implementation of zero carbon policy for non-domestic buildings is damaging investment in the sector, a report by the UK Green Building council has concluded.
The government has committed to introduce the zero-carbon standard for non-domestic buildings from 2019 – a year earlier than it is required to by European law - but has not, as yet, defined exactly what it means by zero carbon for these buildings.
Its implementation of Part L 2013 – the part of the building regulations which governs energy usage and a key stepping stone on the way to introducing regulations requiring homes and non-domestic buildings to be zero carbon – is six months behind schedule.
The UKGBC report, drawn up by a panel of construction and property experts, said that government's policy lacked "clear direction" and therefore the "supply chain are not in a position to move forward in unison in order to innovate and deliver competitive solutions".
The launch of the report was accompanied by a letter to communities minister Stephen Williams (published below), signed by 21 industry leaders, including the managing director of Balfour Beatty Construction Services UK, and the bosses of Carillion and British Land, calling for a "clear policy steer" fomr government on zero carbon.
It said greater policy certainty would "enable economic growth and unlock significant carbon reductions".
But that this was being "jeopardised by the nature of the recent implementation of Part L of the building regulations".
It said: "The stop/start nature of policy implementation, with delayed announcements and incremental improvements which significantly varied from the original consultation options has been unhelpful for the industry.
"This in turn has failed to motivate investment into innovation or enable the industry to position the UK as a leader in efficient construction skills and technologies."
Sarah Cary, sustainable developments executive at British Land, who chaired the group that wrote the report, said zero-carbon policy for non-domestic buildings had been "neglected" by government.
She said lack of certainty made it difficult for British Land and other developers to design developments. "We are well be looking at renovating building when their leases come up in 2017-18. We don't know what we are going to need to build."
Cary added that late changes in regulations could mean that community elements of schemes or affordable housing provisions would need to be scaled back.
The report recommended that the government develop a roadmap for introducing zero carbon non-domestic buildings in 2019 with industry. It also said industry and government should set-up a Zero Carbon Hub for non-domestic buildings, like the one currently in operation for domestic buildings.
It also recommended that the energy usage of a building should extended to include a greater breadth of building services than it does currently, including lifts, escalators and over-door heaters.
The report also said that unregulated energy, such as computers and other plugged-in equipment; and embodied carbon, should be included in a building's energy usage at some point beyond 2020.
Recommendations in full
Government should restate its firm commitment to zero carbon non-domestic buildings from 2019 immediately.
Government should work with industry over the next year to create a 'roadmap' to 2019 and beyond – setting out the parameters of the zero carbon standard.
The impact assessment methodology used by government to assess the economic costs and benefits of policy should be revised to account for a broader range of impacts to the UK economy.
Industry, working with government, should form a Zero Carbon Non-Domestic Buildings Hub to finalise the definition of zero carbon, and facilitate implementation.
The technical definition of zero carbon should follow a similar model to that for the residential sector: a minimum building efficiency standard and a minimum on-site carbon emissions target.
The definition of regulated energy in 2016 should be extended to cover more fixed building services - lifts, escalators and over-door heaters. Whole life carbon emissions currently outside the scope of Part L should be brought into regulation over time (post 2019). These include other unregulated energy uses and embodied carbon.
To build the knowledge and data necessary to incorporate embodied carbon into regulations, designers, contractors and manufacturers should be encouraged to take practical steps now to measure and reduce embodied carbon using the applicable standards.
Modelling tool SBEM should be developed to provide additional and optional functionality which could be used to generate more accurate predictions of energy use in future, possibly presented as a range of results based on different occupancy scenarios, through incorporating feedback from the non domestic buildings sector and operational energy certificates.
There is a need for industry-wide measurement and disclosure of operational energy use, ensuring like for like building comparison is possible, and including building services/tenant responsibilities.
Further investigation should be conducted to assess the potential implementation of an alternative, quicker route to compliance for simple buildings.
Dear Minister
The signatories to this letter represent a broad range of stakeholders, both large corporations and SMEs, who will be responsible for delivering 'Zero Carbon' buildings from 2019, as per the Government's stated ambition.
We believe there is a very strong economic case for establishing a robust definition of Zero Carbon for non residential buildings as soon as possible. The industry stands ready to invest in innovation to meet higher standards, but the lack of a clear policy framework means that current efforts are fragmented and disparate, creating inefficiencies and the loss of global export opportunities.
A clear policy steer from Government will enable the industry to invest in innovation with a level of certainty, and to work together to produce cost effective solutions. In order to capitalise on these opportunities, we believe Government should work with industry to create a 'roadmap' to Zero Carbon 2019 and beyond - setting out the broad parameters of the Zero Carbon standard which will focus efforts and enable the industry to innovate.
The UK construction and manufacturing sectors already have an existing competitive advantage in this sphere thanks to Government policies like Zero Carbon Homes 2016. The estimated cost of delivering Zero Carbon homes has halved in three years, representing a fraction of the estimated costs compared to when the target was launched in 2007. This reduction in cost is in large part due to industry investment in skills and product innovation, enabled through having policy certainty.
The knowledge gained from preparing for and meeting higher regulatory standards in the non residential sector will provide UK businesses with a global export growth opportunity. The Low Carbon Innovation Co-ordination Group (LCICG) estimates that innovation in non-domestic buildings could help create export opportunities that could contribute an estimated £1.7bn to GDP to 2050.
We believe there are real business benefits, both UK and global, to policy certainty in this area, and we would be delighted to work with Government on creating a shared roadmap to 2019 and beyond.
Yours faithfully
David Partridge, Managing Partner, Argent
John J Hughes, Managing Director, Ask Property Development Ltd
Nicholas Pollard, Managing Director, Balfour Beatty Construction Services UK
Peter Stocks, Chief Executive, Baxendale
Colman Billings, Managing Director, Billings Design Associates Limited
Chris Grigg, Chief Executive, British Land
Richard Howson, Chief Executive Officer, Carillion
David Dryden, Managing Partner, Cundall
Tony Cocker, Chief Executive Officer, E.ON UK
Stuart Lowther, Managing Director, EPR Architects
Rob Bould, Chief Executive Officer, GVA
Chris Plummer, Managing Director, Hilson Moran
Cyrille Ragoucy, Chief Executive Officer, Lafarge Tarmac
Pascal Mittermaier, Director of Sustainability, Lend Lease
Munish Datta, Head of Property Plan A, Marks & Spencer
Donald Daw, Divisional Manager, Mitsubishi Electric
Nicholas Hare, Partner, Nicholas Hare Architects LLP
Andrew Griffiths, Managing Director, Prologis UK Limited
David Johnston, Partner, RPC
Paul King, Chief Executive, UK Green Building Council
Dave Worthington, Managing Director, Verco
Neil Jefferson, Chief Executive Officer, Zero Carbon Hub