Report shows 9% capital spend increase as institutions compete to attract students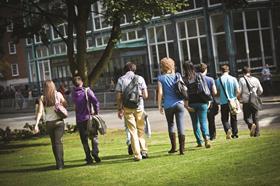 Universities' capital spending on their non-residential estates increased to more than £2bn in 2012/13, according to figures released this week.
The annual report of the Association of University Directors of Estates, compiled by CBRE, showed that capital spending increased by 9%, or £170m, from 2011/12 levels. The figures cover academic parts of the estate, including new builds and significant refurbishments, and exclude the sector's sizeable residential spending.
The figures appear to reflect the anecdotal trend for universities to spend more on their estates in the hope of attracting more students. The report said: "This is no doubt linked to student expectations as tuition fees have risen."
However, the report also warned that rising tender prices in construction "will have an impact on the HE sector, where either more capital will have to be found, or projects may have to be reduced in scale."