Sustainability Rising Star award winner says revised timber regulations have potential to catch firms out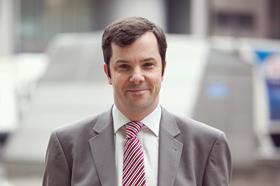 Unsustainable timber has the potential to be the horsemeat scandal of the construction industry, the Sustainability Rising Star award winner has claimed.
Andrew Kinsey (pictured), sustainability director at Mace, beat 35 nominees to win the Rising Star award last week at Ecobuild. He won the award,organised by the UK Green Building Council and PRP Architects, last week in recognition of his work to increase the use of Forest Stewardship Council timber on the Olympic park.
Speaking to Building, Kinsey said the revised European Timber Regulations, which came into force on 3 March and make all members of the supply chain responsible for the sourcing of the timber they use, had the potential to catch out some firms.
He said: "People like Green Peace and WWF who have their ear to the ground will be giving them [the regulators] subtle hints as to who to look at."
People like WWF will be giving the regulators subtle hints as to who to look at

Andrew Kinsey, Mace
He said the horsemeat scandal had given more momentum to an increasing desire from the public to know where products they buy come from – including buildings.
He said Mace monitored such issues partly out of a desire to "manage risk".
However, Kinsey said the regulations needed strong enforcement: "When we have all these pieces of law they need to be adequately regulated.
For example, waste management plans - which they are now talking about getting rid of - are something we don't often see inspectors asking us for."
He said material certification was set to become a major issue for the industry in coming years.
Kinsey added that he wanted to see more consistency across government departments with regards to sustainability standards.
"BREEAM is an example, they have different standards for different parts of the estate. It makes it difficult if you are trying to interpret the rules," he said.
The Rising Star award was organised in memory of Mel Starrs, who passed away in July last year. Starrs, an associate director at PRP, regularly wrote for Building as well as running her own popular sustainability blog.