Recent changes see it handed £20m windfall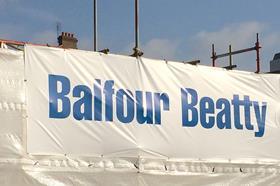 Balfour Beatty has said that changes to the tax system in the US by president Trump will see it benefit by £20m when it publishes its 2017 results in March.
The firm said the Tax Cuts and Jobs Act in the US contained significant tax reform measures that would benefit the firm.
This will see US Federal corporate income tax rates reduced from 35% to 21% and which will "lead to a reduction in the effective tax rate on US earnings from c.40% to c.26% in 2018 and beyond".
It said: "The group expects 2017 earnings will benefit from a non-underlying one-off non-cash credit from the revaluation of US deferred tax liabilities. Based on the net deferred tax liabilities at the end of 2016 this credit is expected to be approximately £20 million."
Earlier this week, the firm became one of the highest profile victims of Carillion's collapse when it said it would be taking a £45m hit on three joint venture road schemes it was carrying out with the firm.
The bulk of the hit concerns its work on the Aberdeen bypass scheme in Scotland where it is one of three firms, along with Carillion and Galliford Try, building the 58km long road. In a statement to the Stock Exchange on Monday, Galliford Try said it and Balfour Beatty were now facing an £80m bill because of Carillion's implosion.
Balfour Beatty will release its 2017 results on 14 March.