Theresa May says modern construction integral to clean growth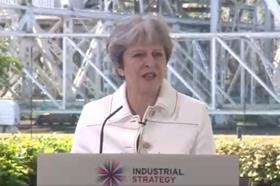 Prime minister Theresa May has thrown down the gauntlet to the construction industry, saying modern methods of construction are central to putting "the UK at the forefront of the industries of the future".
Speaking at Jodrell Bank in Cheshire yesterday, May said modernising the construction sector was particularly significant in addressing the Industrial Strategy's "grand challenges". She said it was particularly important in achieving clean growth.
May (pictured) said: "In the clean growth grand challenge, we will use new technologies and modern construction practices to at least halve the energy usage of new buildings by 2030.
"Meeting this challenge will drive innovation and higher standards in the construction sector, helping it to meet our ambitious homebuilding targets and providing more jobs and opportunity to millions of workers across the country.
"It will be a catalyst for new technologies and more productive methods, which can be exported to a large and growing global market for clean technologies."
May also reiterated the importance of T-levels in moving industry forward, saying it was important to develop "new high-quality T-levels that are every bit as good as A-levels".
She also hailed the creation of new Institutes of Technology to provide higher-level education and training and a national re-training scheme.