West London redevelopment now worth £400m less than two years ago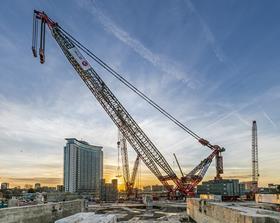 Earls Court developer Capital & Counties has said the value of the west London scheme has dropped by £100m as the capital's property market runs out of steam.
The firm said the 77 acre site (pictured) was now worth £1bn – around 12% down on its value at the end of last year and around £400m below what its value was at the end of 2015.
Last week, the company said it was in discussions with the Mayor of London's police department for the potential purchase of the Met's counter terrorism HQ in Earl's Court.
Capco had previously been expected to turn the Empress State building into 400 new homes and retail space once the Met moved out when its lease expires next year.
It said it had nearly completed handover of phase one of the scheme, called Lillie Square, built by Sir Robert McAlpine, and added that half of the 186 apartments in phase two had been reserved or exchanged. It said it was in advanced negotiations for a main contractor for this part of the work Lillie Square will have up to 800 homes in total.
Last month, Hammersmith & Fulham council rejected Capco's request for a new masterplan for the west London site which would see it increase the number of homes by 2,500 to 10,000.
In its results for the year ending December 2017, the firm, which completed tearing down the remaining exhibition halls at the site last month, said: "The political environment has made discussions on enhancing the masterplan more difficult, however Capco will continue to seek to engage positively with the GLA, our partners at Transport for London and other stakeholders to evolve the masterplan over time."
Earls Court makes up around a third of Capital & Counties' property portfolio by value, with the rest comprising of a properties in Covent Garden in central London. The value of this scheme increased in value by 4.3% to £2.5bn over the year.
The group narrowed its pre-tax loss to £62.5m loss last year, compared to losses of £251m in 2016. Revenues fell to £87.7m from £94.1m.